Minimal style houses, with clean and essential lines, neutral tones and few decorations have been key trends in recent years. On the other hand, Baroque style is a clear counter trend, a riot of colour and shapes. Deliberately exaggerated, it undisputedly takes centre stage, and is the dominant force in the room. Nowadays, thinking of furnishing a house in pure Baroque style, with golden decorations and nineteenth-century chaise longues, is apparently out of the question. What if we told you that it's not actually all garbage? Revisiting some Baroque style elements makes it possible to create unique environments, rooms with unmatched, yet never excessive elegance. The secret, as always, is knowing how to carefully choose and properly assess which baroque style elements to use.
Reinterpreting Baroque
https://www.pinterest.it/pin/689050811715362185/
Modern baroque is built upon contrasts. By harmoniously blending the contemporary style and baroque, original and striking environments can be brought to life. Gold, silver and strong Baroque colour, such as purple or plum, can be softened by using neutral hues which, in turn, can become more attractive thanks to the Baroque personality. Green light also to black, for a striking effect and a touch of irony.
Daring with lights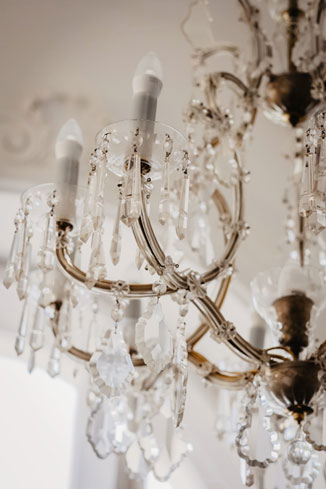 An element to indulge in? Undoubtedly lighting. For a house with Baroque style elements, we can focus on statement candelabras and chandeliers that can give a twist to a modern room which, with the wrong lighting, could become definitely anonymous. If you want to bring a touch of magnificent elegance to a modern living room, a crystal chandelier with pendants should do the trick. Even the study can be turned into an extremely sophisticated room by adding the right suspension chandelier to the room's neutral tones and vintage effect furniture.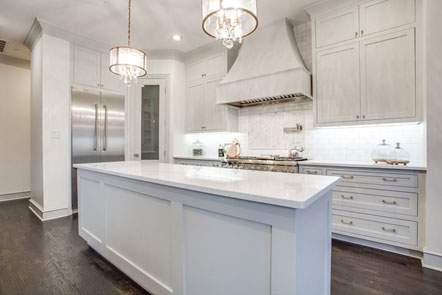 Each room can benefit from the union of antique and modern elements, even the kitchen. The Baroque style chandeliers stand out in this room, where the protagonist is the kitchen worktop from the Santamargherita Venati collection, SM Quartz – Virginia. The white of the worktop, the elegant island with retro details and the lights give the room a modern, sophisticated look.
Must-have furnishing elements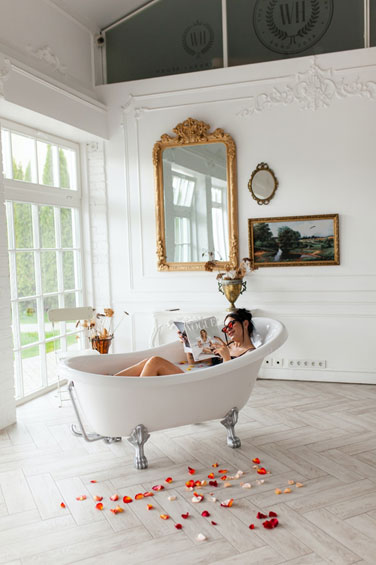 As seen, lights and colour schemes are the cornerstones in a house with Baroque style elements. But what are the must-haves to add to the rooms of your house (sparingly, mind you) to achieve the desired result? A decorative accessory to be recovered from your grandparents' house is undoubtedly the gilded frame mirror! Gilded frames with elaborate floral designs and refined decorations are viable options if you are looking for an item that can dominate the room with strength and character. Modern baroque style seats and armchairs can also bring elegance and style to the contemporary home. For armchairs, choose velvet or quilted leather models – they will give charm and preciousness to the room. Finally, curtains. For a modern baroque style home, you can choose statement curtains with floral embroidery and patterns, elegant valances and damask draping. Also in this case, finding a balance between glitz and simplicity is key to successful interior decoration.
Photo credit: https://dweling.com/diy-anthro-mirror-knock-off/