Many colors and materials combined together for an eclectic city apartment full of personality.
The metropolitan nest of a young recycle designer whose strong point is the mix of design and poor materials to which a second possibility can be given. An atelier house, test bench for its products and for its material experiments. The kitchen is a cheerful, bright and functional space, characterized by cobalt blue wall units and a chandelier made with recycled pet. A young and dynamic solution, always ready to welcome visiting friends!
These elements are combined with more classic details and design, such as the iconic wishbone chairs that revolve around a solid wood table that certainly does not go unnoticed. The eco-friendly nature of this house is also found in the stool made of recycled wood from the Dutch designer Piet Hein Eek and in the large circular rope rug, which immediately makes the environment informal and with a "beach house" style.
For this kitchen, so original and unique, I thought of a worktop in quartz work in shades of white. The choice fell on SM Quartz – Bianco Stardust from the Stardust collection, resistant, stain-resistant and anti-scratch, perfect for a kitchen to be lived together.
The living room, contained but very bright, follows the mood of the kitchen and on a light base it houses some informal furnishings that come from different contexts: the designer lamp, the three tables of different shapes and materials, the comfortable milk-white modern sofa. Another iconic piece is the red rocking chair and the focal point of this environment is represented by the collection of colorful African baskets and dishes with contrasting geometric patterns.
With all these different details and mixes there was a need to make the rooms uniform, so I imagined a neutral-colored SM Marble floor, the Bianco White: modern and basic, but also extremely elegant and clean, also in the adjacent kitchen / lunch. The apartment becomes a "white box" on which to play with different colors, materials and shapes, without fear of being excessive, but leaving space for imagination.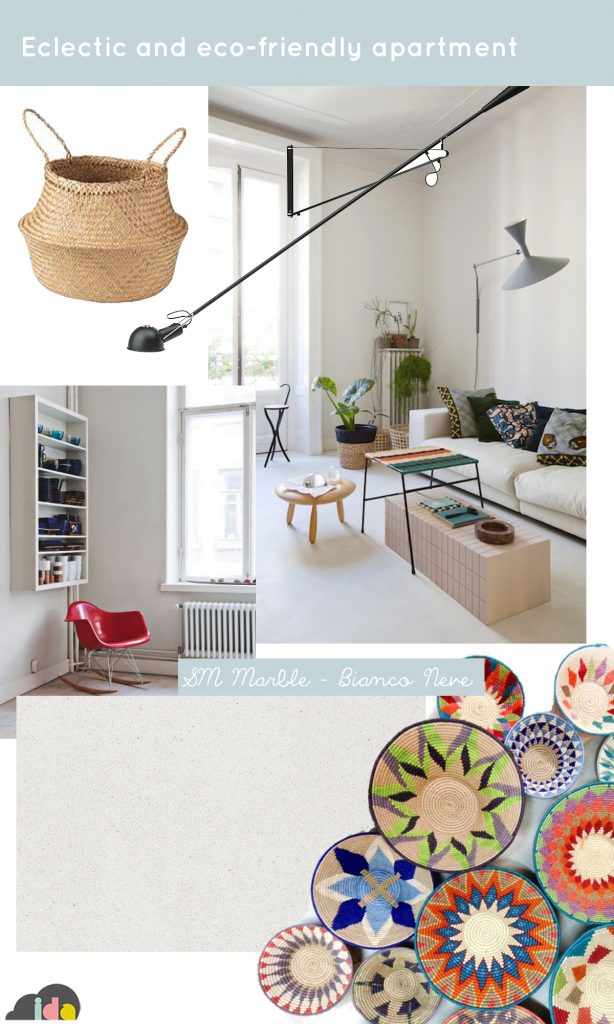 Ilaria Chiaratti