For many the kitchen is the heart of the home and it serves many purposes throughout the day: sometimes it is where we prepare and eat meals, it is where we do homework and even work (especially this last year!), it is the 'control panel' of the house, but mostly the place where people spend time together.
How to bring all of this together if you want a minimal style kitchen?
And if the family is large and it is hard to keep it tidy, the challenge seems truly impossible. But with a few solutions you can certainly achieve the dream of having an organised kitchen with a minimal style.
My first tip is to imagine a kitchen, during the design phase, with plenty of cabinets, both bottom and top. This offers plenty of storage space to put away all of those things that immediately make the kitchen untidy, such as jars and small appliances.
The secret for a minimal style kitchen is precisely minimising mess on the counters (which also makes them easier to keep clean).
Some objects are "allowed", essentials such as hand soap, but in sophisticated packaging. Cutting boards and herbs are elements that do not intrude too much, they only need to be grouped together to avoid untidiness.
The counters are, rightly so, very important to the design of a kitchen and must be chosen carefully. To recreate this style, it needs clean and minimal lines, just like SM QUARTZ – Grecale. Basically, very kitchen-friendly. The light and elegant surface is suitable for a no-frills, refined and contemporary kitchen.
Completing the kitchen is a series of elements that are functional and feature a timeless design, like the CH24 chairs and the black hanging lamp with a slightly industrial style.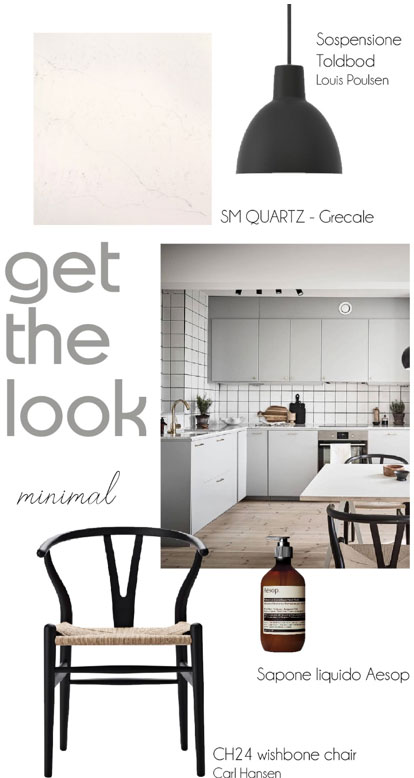 Photo by Stadshem
Ilaria Chiaratti