A Scandinavian style house just outside of New York, would you believe it from this picture?
You would think it is in Copenaghen, because of the colour palette, the materials and the decor. And yet it is on Shelter Island, the house of a fashion buyer and her husband.
Would you like to recreate this look but have no idea where to start from?
The Scandi-chic style is actually easy to create in your own home, you just need to follow some basic rules.
The first is to create a light and luminous base on which you can mix and match the furnishing and accessories. Light is essential to recreating a Scandinavian atmosphere, so free rein on windows with light and sheer curtains, differentiated light fixtures based on the zone and candles set up here and there.
Walls are white or milky that blend with wood or quartz floors, also in neutral colours, as though they were joined seamlessly.
The furniture, on the other hand, must have soft and sinuous lines and a well-defined colour palette, to avoid a patchy mix and match effect. A perfect example is a pink three-seater couch that becomes the statement piece, gorgeous paired with mid century bottle-green velvet armchairs. These are the only colours, that interact perfectly with the base.
Surrounding yourself with fine materials is the second rule. In terms of the furniture, but also the floor. As in this case where I suggest SM QUARTZ – Lyskamm because of its small grey veins that give the surface "movement" making it even more interesting. I love the contrast between quartz and wood, it creates an impressive and truly elegant effect.
Lastly, select the accessories with special care to make the space super chic and with an attention to detail. It doesn't need a lot of pieces, indeed the opposite is true. Few elements but meaningful and most of all functional, another principle of Scandinavia style, where nothing is a coincidence, and everything is selected down to the smallest detail. A timeless designer lamp that also creates the perfect cocooning atmosphere, a warm blanket always available on the couch and maybe a rug bought on a trip.
You don't need anything else to make the space elegant and neat.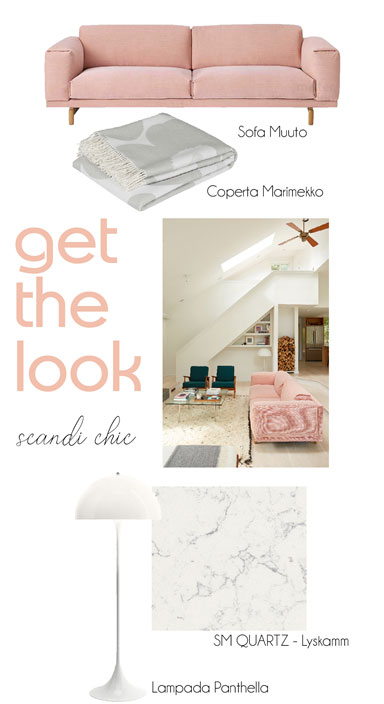 Ilaria Chiaratti