As we know, Millennials, the first generation in history to be born in the age of global communication, love travelling.
Instead of buying a house, they prefer to travel the world, exchanging experiences with their peers.
And, when they find a place that catches their attention, they simply can't wait to share it on their social networks.
Word of mouth is the new frontier of marketing.
This is why converting your property into a B&B could turn out to be not only a very topical idea but also a highly profitable one.
The rooms should not be too sophisticated, but give the impression of having your own personal space. Millennials don't like total look environments, they prefer a style that combines designer items with vintage pieces and hi-tech elements. Of course, Wi-Fi connection is a must.
If converting your home into a B&B is too expensive, you could consider co-branding with companies to furnish the place.
Many companies will be delighted to be part of a context that offers people the opportunity to experience their product, and they will install it for free or at a reduced price in exchange for this type of publicity. Millennials love brands that have a story to tell and inspire their trust.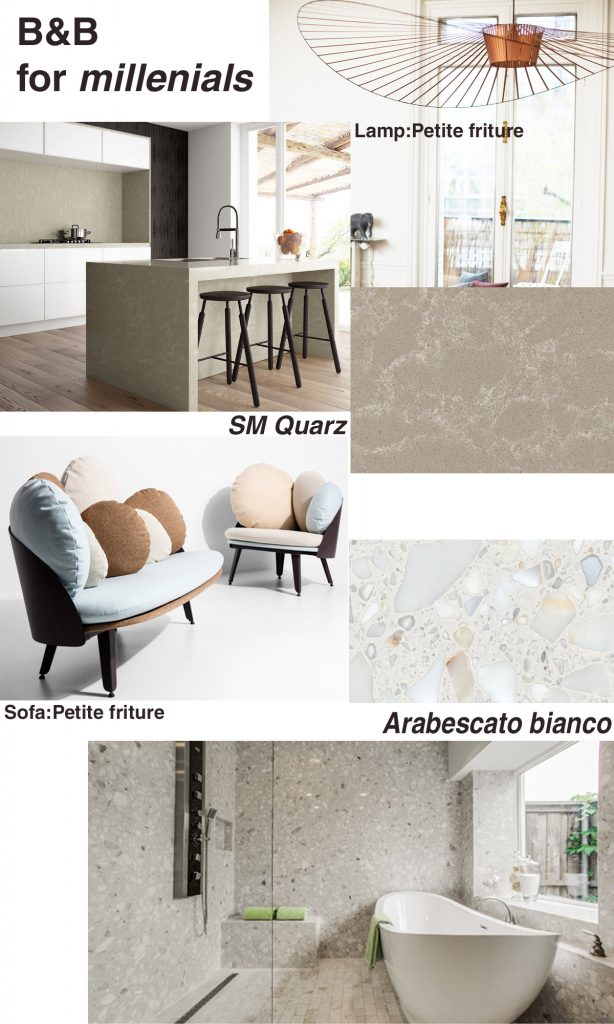 The B&B must have a kitchen where guests can organise lunches and dinners as they please during their stay. You could choose an open-plan kitchen to create a single living space. I quite like the idea of an island kitchen. This way, you won't need to have a dining table, which can be replaced by a counter attached to the kitchen unit, which allows you to gain space. As a surface for the worktop, I would recommend SM Quarz – City Beige by Santamargherita, an agglomerate of selected quartz sands and resins, which in addition to being extremely pleasing to the eye, is also highly resistant to scratches and chemicals and has excellent waterproofing properties.
It will therefore be ideal for ensuring resistance and durability over time, especially considering the fact that it will be used by numerous guests.
The bathroom should also be efficiently designed. I imagine it with a fresh, contemporary style. For example, it could have a large shower equipped with audio system and chromotherapy. The SM Marble surfaces by Santamargherita are particularly suitable for flush shower trays and walls, providing a natural stone look. To create an interplay of colours, you can combine slabs in different shades, thanks to the wide range of products available from Santamargherita's extensive catalogue.
Finally, the furnishings should create a friendly atmosphere to make your guests feel at home, with comfy sofas and warm, welcoming lighting.
Now all you need to do is set up a page for your B&B on social media and on the best online tourism platforms,
and start sharing it!

Stefania Vairelli
Director NOmadeDESIGN.com