The contemporary kitchen opens up to new possibilities with the latest colors from our Voyage collection: Eolo, Bacio and Etesia.
Characterised by natural-looking veins with an open stain effect, Voyage slabs are available in two different finishes: glossy and silk. The high aesthetic result of this collection, perfect for a contemporary kitchen or a refined bathroom environment, is the result from Santamargherita's research, which employs state-of-the-art technology to create this unique product.
Let's discover the three new colors in the collection together and see how we can use them in our kitchen environment.
Etesia, the beauty of dark tones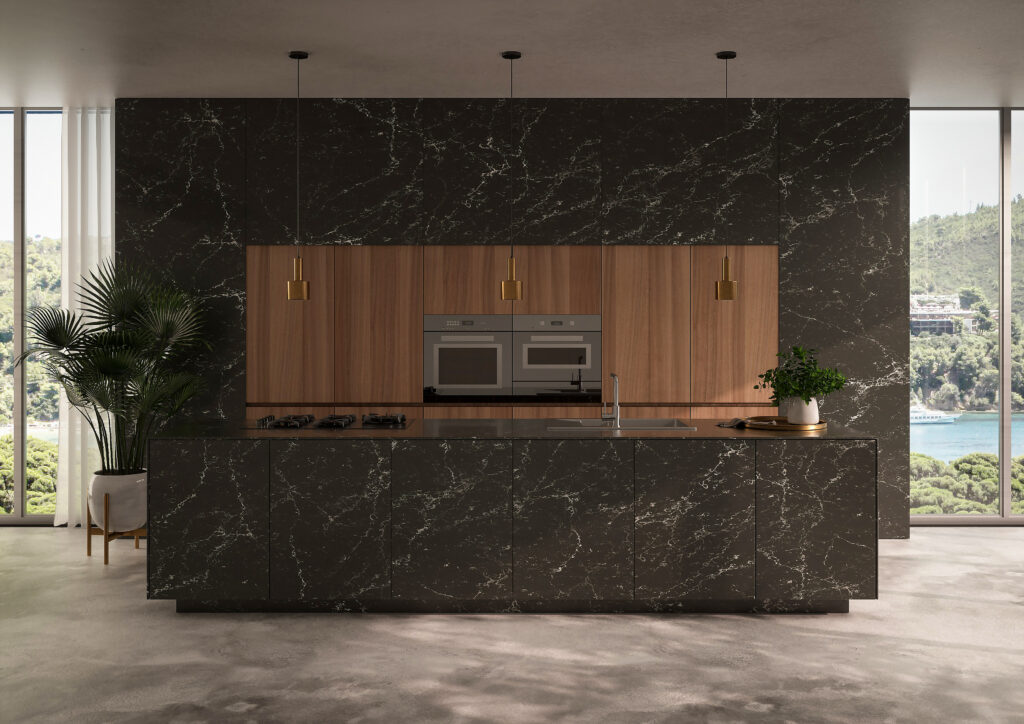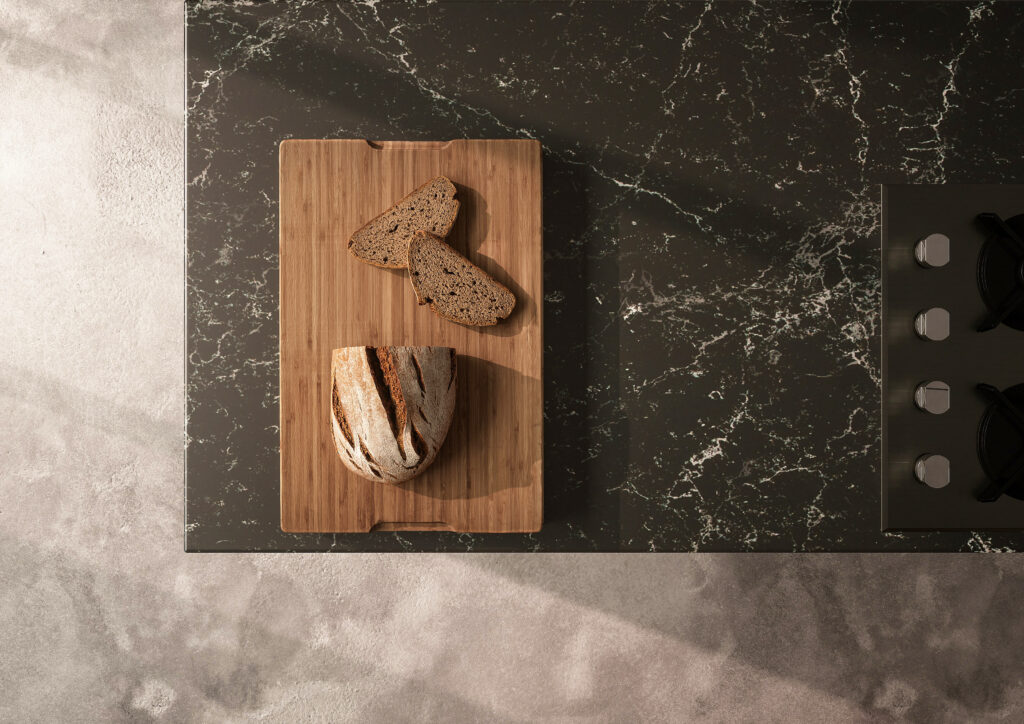 It is impossible to not be captivated by the beauty of Etesia. The combination of dark colors and natural wood creates a warm and welcoming kitchen atmosphere. The color and material selection is used effectively to create a modern, practical and durable design. If you are looking for a dark shade such as black or anthracite grey for the kitchen space, then let yourself be inspired by the modern and elegant look of Etesia.
Eolo, understated elegance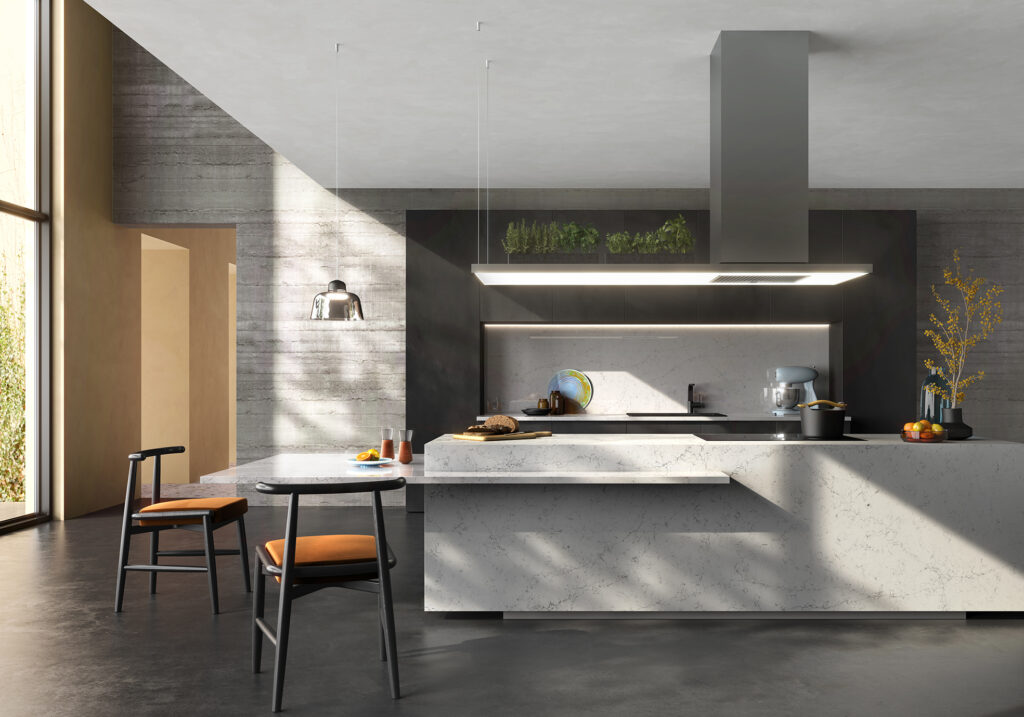 Space is now given to lighter colors with an extremely versatile choice. Eolo, another new Voyage entry, can adapt to a multitude of environments and styles. In this case it was chosen for the back panel, kitchen island and snack top with a modern mood and skilfully mixed contrasts. The delicate veins soften the square lines of the composition for an effect that is both harmonious and chic.
Bacio, contemporary taste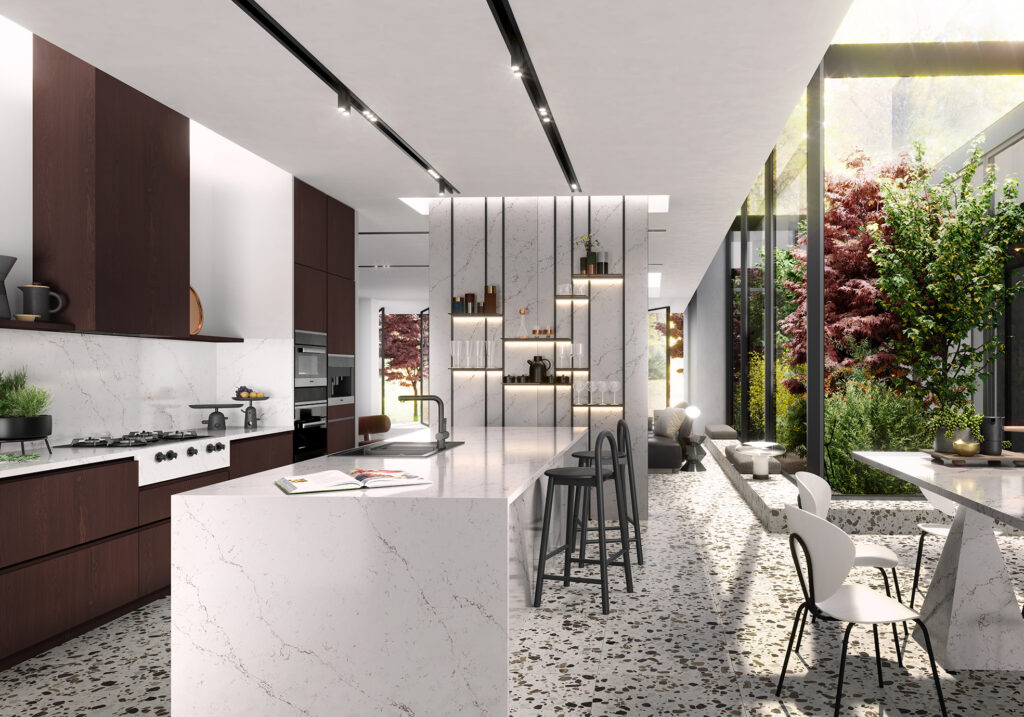 Bacio, with its grey veins on a very light base, is perfect for a kitchen (and bathroom) with a contemporary feel. Backsplash, island and wall cladding – used here to divide rooms – create a bright, minimalist environment. The combination with a terrazzo-style floor such as Palladio Rialto creates that unexpected twist that makes this kitchen-living space truly original.
If you would like to learn more about this collection, discover all the Voyage colors.