Nero Portoro and Palladio Fenice are the unrivalled stars of the rooms that we are presenting today. We are in one of the most cutting edge residential quarters in Lithuania: Piliamiestis.
Erected along the right banks of the Neris, this city within the city faces the ancient castle of Kaunas, regaling its inhabitants with a view composed of beauty, history and culture. Living in these flats means being able to enjoy nature, the peace of the greenery, without having to leave the bustle and convenience of the city.
And if the exterior already makes it the perfect place to live, the interior conceals a treasure of design and taste: two rooms decorated with marble, two bathrooms exuding elegance where one can relax but also be transported through a history that speaks of modernity.
The charm of Nero Portoro
The play on contrasts created by the white and black turns this bathroom into something unique: not just a simple room, but an actual experience. In fact, when you enter you will easily feel enveloped by the elegance of SM Marble-Nero Portoro, which will accompany you along a journey to the destination of total relaxation: the white tub. Here you will be able to enjoy a bath in complete solitude, surrounded by the brilliant elegance of the surfaces.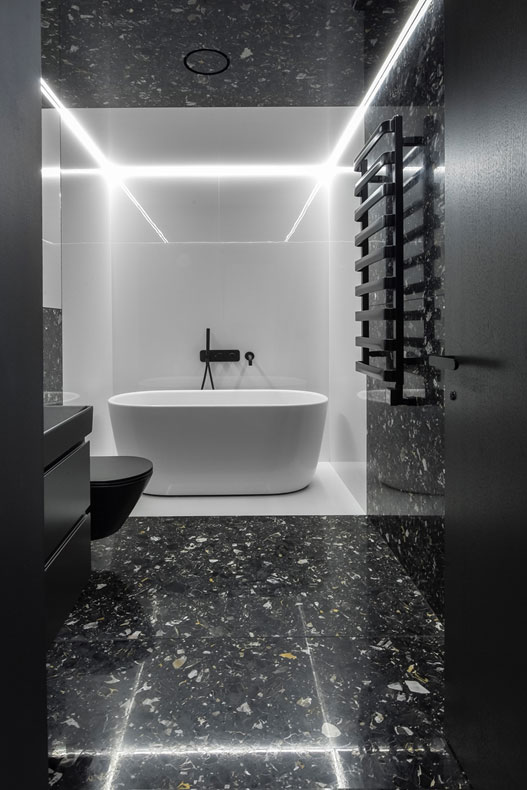 The shower gains character with Palladio Fenice

The SM Marble-Palladio Fenice shower draws everyone's attention thanks to its originality. In fact this bathroom acquires all of its energy thanks to the green shades of the shower that go perfectly with the other chosen surface: ceramic-effect parquet. A combination of light wood colour and green, alluding to nature, just like the surroundings of the Piliamiestis flats.