The Venetian terrazzo trend, which made a comeback over a year ago, is affecting the world of design all around, starting from floors and walls up to the smallest and most unthinkable furnishing accessories.
Who does not remember rooms with the characteristic grit effect flooring? Terrazzo has very ancient and noble origins, and was in fact the typical floor of Venetian buildings starting from the 16th century, a sort of mosaic made of marble and stone grit – processing waste bound and submerged in cement.
Are you wondering what this comeback is due to? Cycles and counter cycles, but reinterpreted. Think about it, in recent years we have seen marble used in a great many interior projects and its characteristic texture used for any type of object. The terrazzo pattern lends itself to even more customisations, consisting of many fragments it allows you to mix different sizes and produce endless combinations of shapes and colour. If the palettes of greys and blacks remain the most widely used and elegant, the application of pink-based terrazzo in a bathroom, or a kitchen top with a green and orange colour scheme, can only make your home unique and personal.
The successful return is precisely due to how it continues to be modernised: from floor use it is now used for tops and washbasins in the bathroom, up to the most modern designer accessories which echo its pattern although in a completely different material. The original grit made of small fragments is offset by the idea of a contemporary macro effect.
A bold trend, the uniqueness of which leads us to believe that it is set to last over time.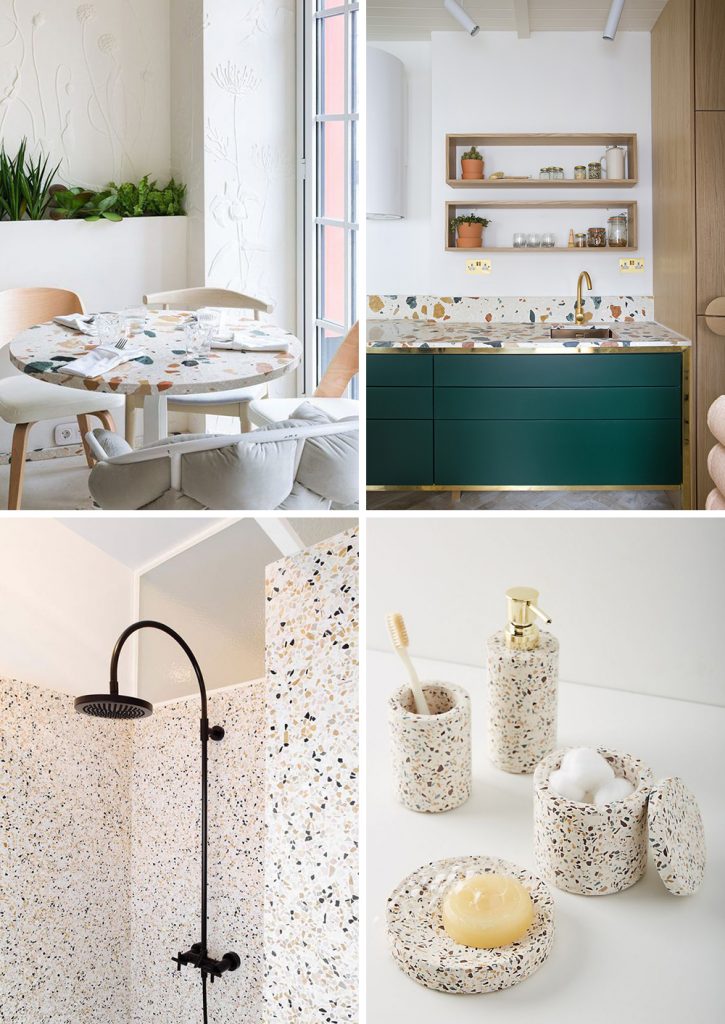 1. https://www.instagram.com/sundukovy_sisters/
2. https://www.houzz.co.uk/projects/2066502/apartment-notting-hill
3. https://www.anthropologie.com/shop/terrazzo-bath-collection
4. shower project and credit http://www.madearchitects.be/
A Casa di Ro