A story that began in the early 1900s has seen Oberpollinger as the undisputed star of Munich's shopping streets. A building with a glorious past, one of the most fashionable department stores in Germany at the beginning of the last century, which over time has become a real icon of the evolution of contemporary architecture and design. Born on March 14, 1905, under the sign of Pisces, as the embodiment of the spirit of the "great world", it represented the most important showcases in the country in response to the large centres in London and Paris.

Located in the centre of the busy Neuhauser Strasse, the building designed by the architect Max Littmann features three imposing gables and a large atrium covered by glass panels: a new concept warehouse with a sophisticated and avant-garde design for that time.
The 1920s saw its rapid rise as a shopping centre, crowded with Munich's nightlife, thanks to an innovative business model for those times, which included fixed prices and cash payments. Then, the dark years of ruin, from the Nazi boycott to the two wars, until the fire of 1945. From the rebirth and reopening in 1954 up to the present day, the 2000s, which involved the gradual renovation and modernisation of the building, with a transformation in 2016, under the expert guidance of British architect John Pawson, who improved it by making it a "visionary" department store: with its 34,000 square metres, it opens up to the world through a mixture of styles capable of harmonising its roots and its historical character with a more urban design to represent the current lifestyle.
The Oberpollinger is constantly evolving, its spaces feature shops capable of interpreting the needs of national and international patrons. Santamargherita materials also became part of this path of continuous innovation in 2019, especially on the second floor, in the luxury galleries, where the materials are better combined with the concept and design of the stores aimed at the most demanding customers.
SM Marble best decodes the contemporary style of the furnishings, thanks to a mixture of natural marbles, colours and particle sizes designed specifically to make the soft, rational and geometric effect visible today in the store: perfect rectangular slabs that extend over a surface of 3,400 m2 of flooring. An exclusive composition of marble, in unique colours and with a special finish, in a customised size measuring 60x20x1.6 cm: the fully custom material was developed in collaboration with the Santamargherita research and development department and the customer's style department.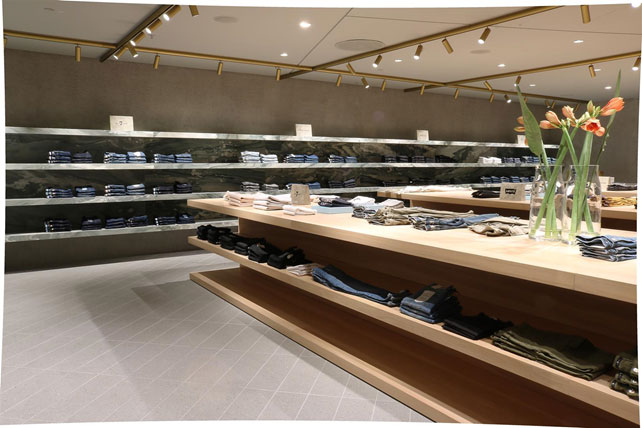 Oberpollinger is part of the Kadewe group, that Santamargherita has collaborated with extensively and has contributed with its know-how to the implementation of various projects, such as Kadewe in Berlin and Alsterhaus in Hamburg, bringing the aesthetic and technological excellence of its products to historic multi-brand luxury fashion stores.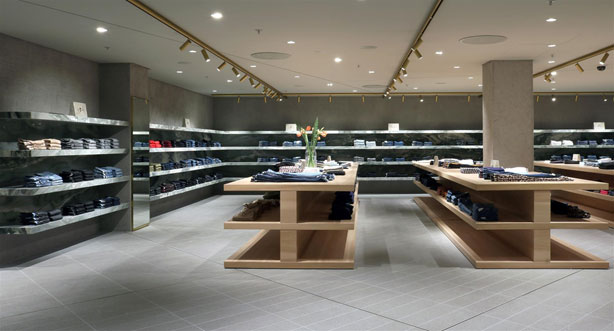 Sources:
www.oberpollinger.de
www.muenchen.de/int/en/shopping/typical-munich/oberpollinger.html