Choosing a countertop in agglomerate means making a practical, lasting, hygienic choice, but can it also be suitable, from a style point of view, in a period house? Let's find out
The kitchen countertop is the heart of the work area and, when chosen, great attention must be taken to its technical characteristics not just the aesthetic ones. However, it is also true that a lot of the materials available nowadays, natural or artificial, offer the chance to choose technically valid tops that can blend harmoniously with the style of the entire environment.
Let's start with technical characteristics. Which ones are the most important?
Resistance and lasting over time. The kitchen top is that part of the kitchen which, given its function, risks wear more than other parts. It comes into contact with knives and blades, corrosive agents and high temperatures. The material chosen must, above all, have technical characteristics that guarantee resistance to blows, heat and chemical agents.
Hygiene and water-repellence. A hard, compact material with a surface that allows no dirt, bacteria and liquid to filter through guarantees top hygiene.
Easy to clean. Dirty utensils are placed on the top before being washed as are clean ones before being put away; but that is not all. The work top is used to prepare food, at different times of day. That is why it has to be fast and easy to clean. Avoiding situations with lots of joints between the parts or surface level differences.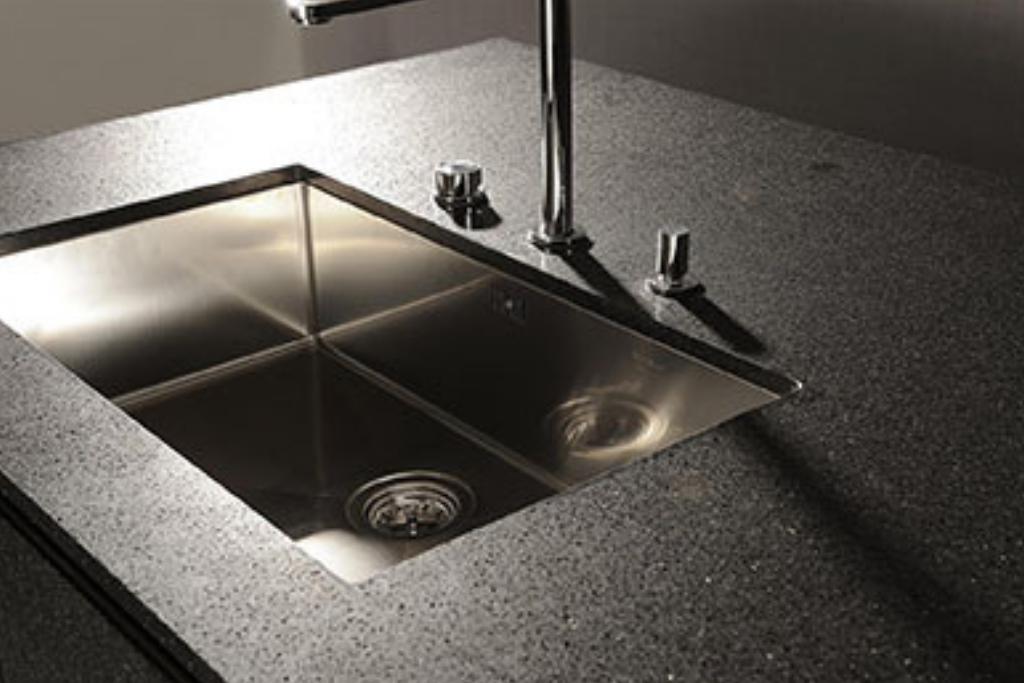 The most widespread, valid materials, from the technical and aesthetic points of view:
Stainless steel: cannot be attacked by bacteria and perfectly waterproof; but does suffer from scratches and blows.
Gres porcelain: resistant to blows, high temperatures and cannot be attacked by acids or solvents.
Hardwood: if treated with waterproofing resins it can be used in the hob and sink areas; it is ecological but highly sensitive to wear.
Marble and natural stone: above all an aesthetic choice. Tops made in natural stone are definitely the most elegant, but their porosity requires constant maintenance.
Technical stone (or stone agglomerates): this name groups all those products, of a recent origin, produced by mixing natural stone powders, resin and natural pigments. Their main value is that they faithfully reproduce the image of traditional quarried materials, but increasing resistance and duration. The formulas of the various mixtures are often patented by manufacturers. That is why these materials come under different names.
The Santamargherita choice
The Santamargherita kitchen countertop proposal concentrates on a specific quartz agglomerate resistant to scratches, blows and bending, impermeable to liquids and acids, easy to clean and certified. SM Quartz is obtained from selected quartz sands and resins certified for contact with food and environment hygiene in general. Quartz is an extremely hard, resistant material. On a scale of scientific values it ranks straight after topaz, diamond and sapphire. That is why Santamargherita has chosen quartz as the stone you can count on when offering a truly reliable kitchen top.
And in a period kitchen?
While steel identifies, in its aesthetic image, a modern style, the quartz agglomerate and the ample choice of finishes, textures and colours offered by Santamargherita, guarantees that it can be adapted to very different situations. The more or less fine grain, for example, means it can be combined with wooden furniture, in different woods, even very classical, that would be demeaned by a more anonymous solid colour top. Lastly, its surface, just like natural stone, enables it to express a warmth that is in tune with openly traditional kitchens.
Giorgio Tartaro