"Classic is what always has something to say.".
Here is the unexpected classic: this is how you might define a Venetian marble floor, the state-of-the-art of international design, which has its roots in a long history of tradition, beauty and retro allure.

That of Venetian marble floorsis certainly the great comeback of a timeless must, of a piece of furniture so profoundly present in collective imagination that it immediately suggests the idea of home, a familiar environment and comfort.
The English call it 'effortless', which might be thought of as 'elegant comfort'. A marble floor is effortless and much more: its natural beauty goes beyond the fashion and the marble-manias that have dominated interior design for years, overcoming them.
In the case of Venetian marble floors, the question becomes broader, with new nuances: not only seduction and elegance, but also an informal charm that makes chromatic disorder a strong suit. Santamargherita has given a contemporary interpretation to Venetian marble floors, where the nostalgic feel is imbued in a very contemporary note.
In a marble floor, the ability to seduce and at the same time welcome those who live an environment is unique. There is no need to resort to spectacular moves: a marble floor simply embodies a very specific concept: style.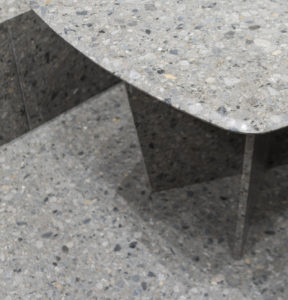 A style that Santamargherita interprets with its marble agglomerates, proposing collections with new ways of interpreting a timeless classic. As expressed in the new Tonale series, a proposal that plays with the tone-on-tone effect of neutralshades: the palette ranges from grey to beige, on that fine line between elegance and refinement.
In the marble agglomerates designed by Santamargherita, the pure aesthetic function is combined with the benefit of practicality, the true leitmotif that has always characterised Venetian marble floors as well.
And if we want to talk about practicality, it is really appropriate to say that the Venetian marble floorsare unrivalled. A finish that is increasingly chosen as a solution for contemporary spaces, not only because it brings to mind the marble floorsof old Italian historic buildings, but also due to its strength and durability.
Intact over time, flexible in adapting to any kind of setting, special for being beyond a specific aesthetic set of rules. This is the pattern of Venetian marble floors: ever-changing, in its pleasant chromatic irregularity.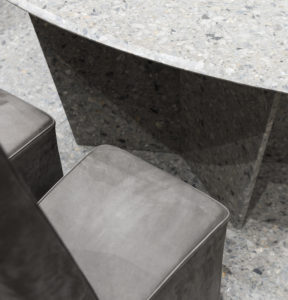 Are Venetian marble floors the new black? Let's allow ourselves to use a metaphor borrowed from the fashion industry and recognise it: yes, after years and years of monochrome marble floors, we are now facing a great comeback. Venetianmarble floorsgo well with anything: they blend into any setting, they have their own personality and are always able to enhance the spaces hosting them.
In Tonale, the new productby Santamargherita, the delicate nuances of the marble agglomerateperfectly recreate the style of the marble floorsof old Venetian buildings. The patterns and textures are unmistakable: immediately recognisable, always appreciated by the public, never repetitive, but always very impressive. The Venetian marble floors convey a fluid touch to spaces, in a visual continuum that is welcoming and refreshing to the eye. Beautiful to look at, but above all to live in.
The Editor