Marble has always been one of the most popular materials for decorating bathrooms. Elegant and refined, it immediately elevates the style of the room with its solid and shiny features. A choice that certainly adds aesthetics, but also provides quality.
What can we use marble for? The washbasin, the tub, the furnishings, the floors and the walls too. Choosing to cover the walls with marble means choosing significant style and value. This makes marble the undisputed star of the room, wrapping it in an embrace to reveal luminous reflections and fine details.
A stunning choice
Have you decided to cover the walls of your bathroom? Then go bold. With SM Marble you can give the room personality and style by choosing a material rich in granules. SM Marble – Arabescato Bianco, from the Breccia collection, is perfect for a stunning bathroom.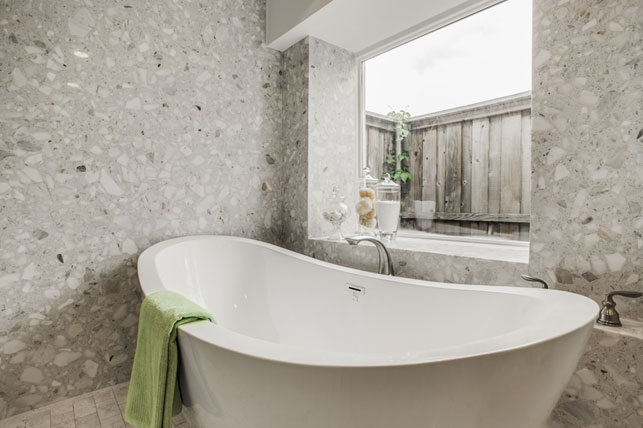 On the other hand if you want a lighter effect with icy hues, you can choose SM Marble – Palladio Doge covering (as seen in the photo). In this case the simplicity of the walls gives you more freedom to play with the other elements of the room without creating a heavy effect.
A new outlook
Not just coverings. The overall visual effect can also be created by drawing your eyes lower down. From the floor to the tub, from the tub to the floor: a fascinating journey that creates harmony in the room. In this case we chose SM Marble – Palladio Laguna.
Fine details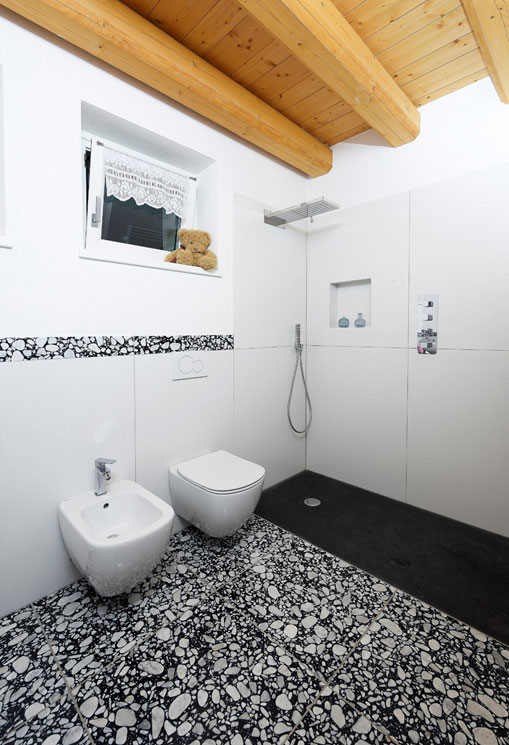 The covering can also be minimal. In this case SM Marble – Palladio Moro, used for the floor, was also used on the walls. This creates a unique effect of simplicity and beauty. The expressive force of the contrast between black/white thereby distinguishes the entire bathroom.