June 2023, Gdynia, Poland.
Today we introduce Anna Pitchouguina: a traveler, dreamer and innate optimist, as well as a fashion designer and founder of the slow fashion brand Pitchouguina (https://www.pitchouguina.com/).
In this interview she tells us about the recent project executed at her family home in Gdynia, set next to the beautiful Baltic Sea, that aimed to create a comfortable environment – a place where creativity and inspiration can flow freely.
All the shapes, materials and colors chosen for the project are soft and welcoming. Together they bring together a home that expresses creativity and a love for art.
SM Marble Nero Portoro (https://www.santamargherita.net/product/nero-portoro/) stands out among the materials for its unique character, combining the boldness of black, but touched with a certain softness.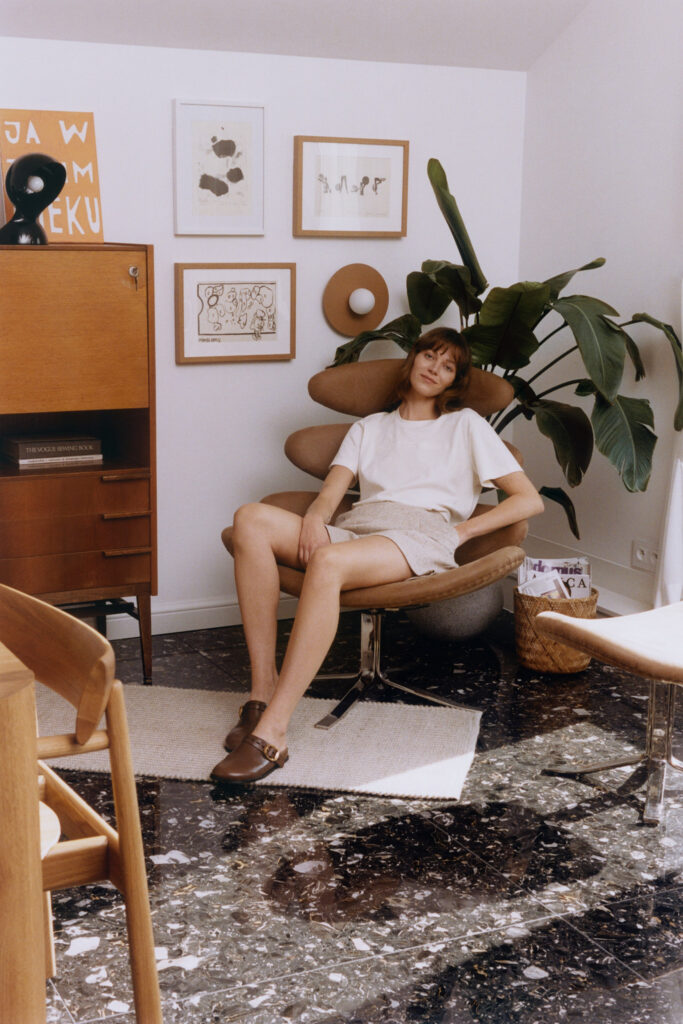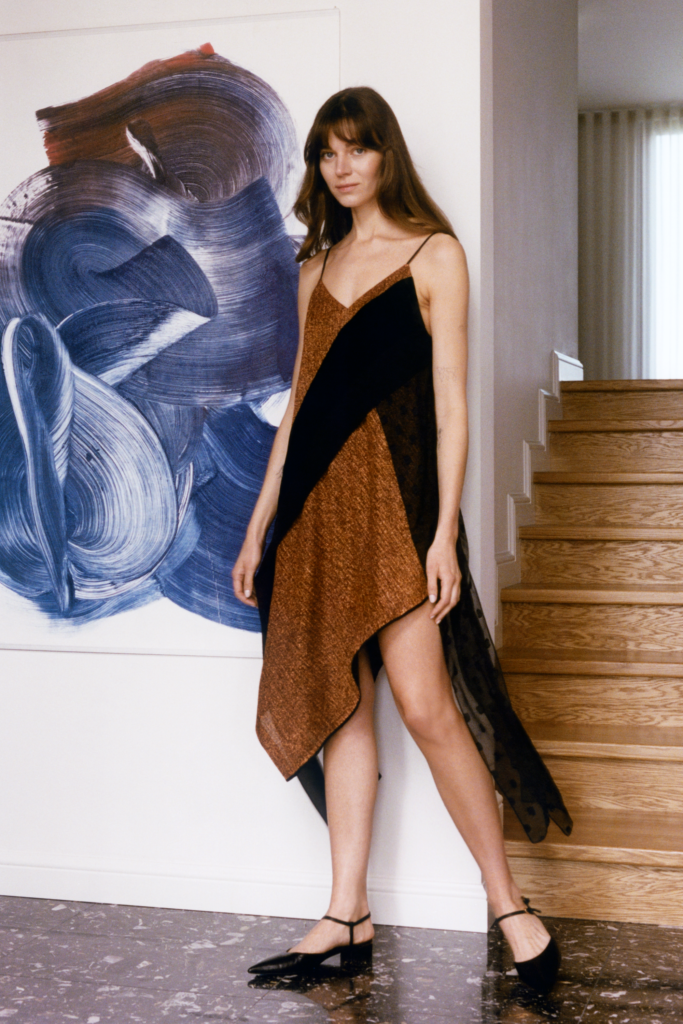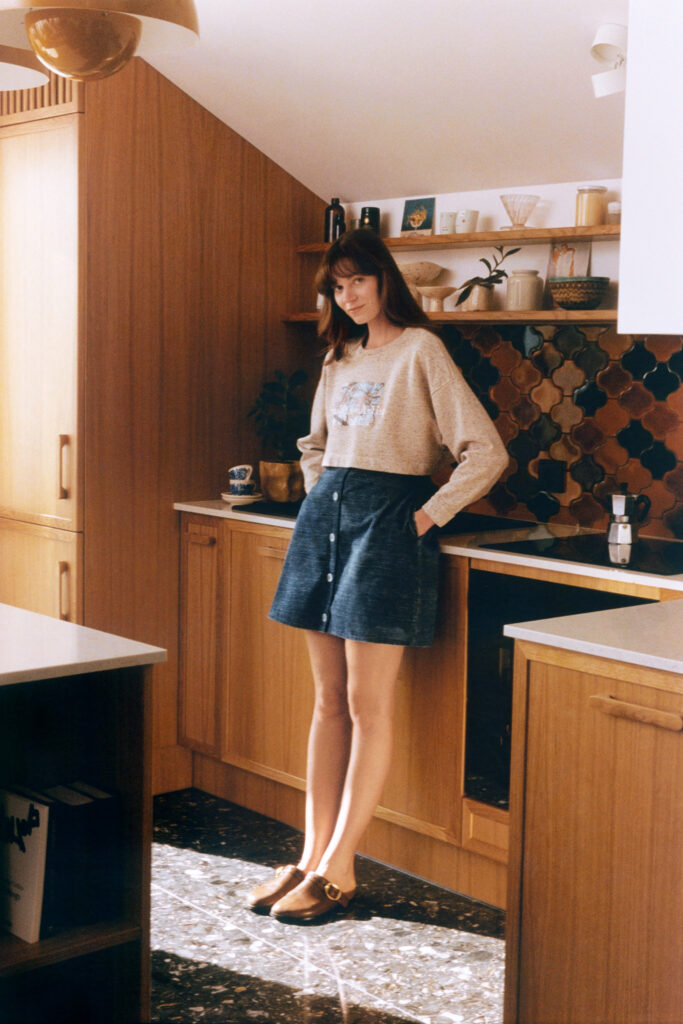 The project images were taken from the shoot for Pitchouguina's new collection "Born Again", which Anna tells us about during her interview.

How did the idea for the project come about? What philosophy guided you in making the design?
Traveling a lot, I have always felt it was essential to have a space just for me in my home in Poland, a quiet corner of the world where I could live and rest.
I wanted to create an environment where one could really breathe, one that was soft and gentle, but also filled with art objects (my passion). A relaxing and thriving space for creativity and inspiration — one that would leave, even in patrons, a positive feeling of freedom and self-confidence.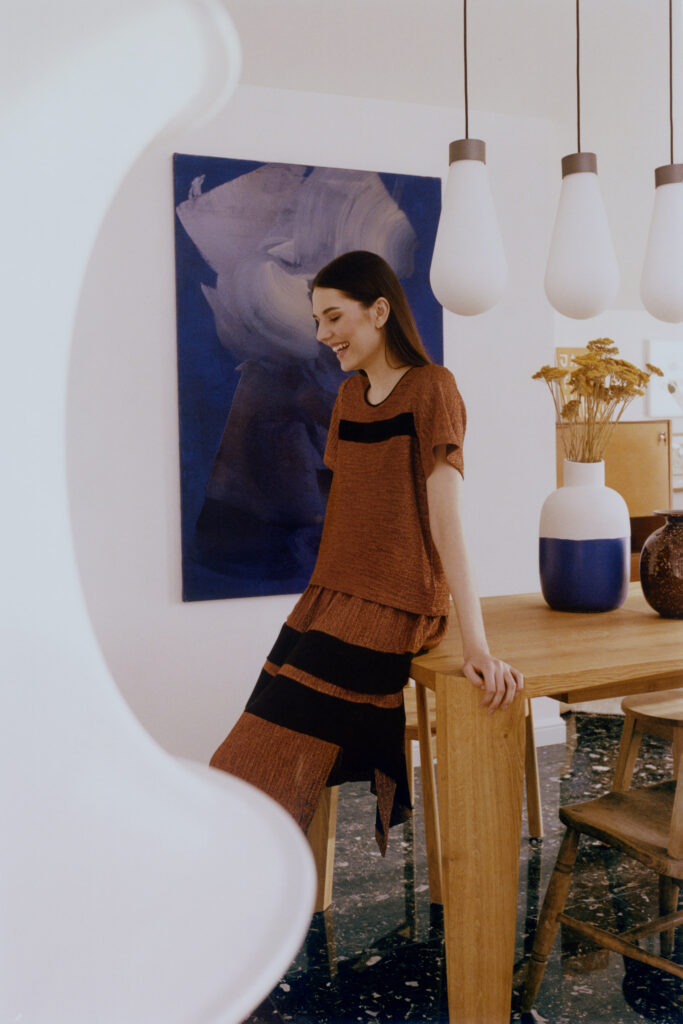 Who supported you in the implementation of the project?
This project is the result of a family collaboration: the design was taken care of entirely by myself, my father and my sister; together we meticulously selected all the elements of the house, which consists of three different apartments.
The process was long and required a good deal of tenacity, but I am truly satisfied: the result of this fusion of creativity is nothing short of incredible.
What style did you choose for the project? And what materials?
I would say that the concept of the project could be summarized as follows: "The home of an art collector, creative and enthusiastic about life."All of the shapes, materials and colors chosen fit into the trend of organic interior design and are soft, streamlined and welcoming – capable of instantly dispelling negativity and putting anyone who enters at ease.
Lots of natural, oiled wood, handcrafted tiles in warm tones (by Hersztek) and, of course, the wonderful SM Marble Nero Portoro floor.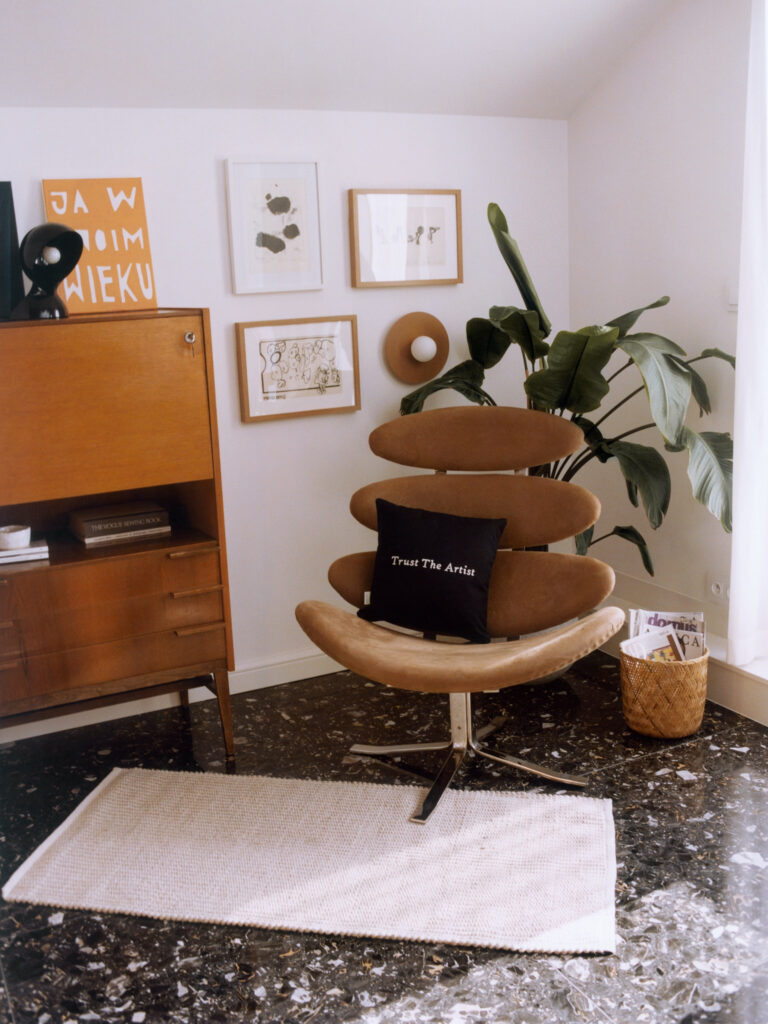 Did Santamargherita materials live up to your expectations? What did you like the most?
Yes, absolutely! What struck me most about Nero Portoro was its dual character: on the one hand, it has the typical boldness of a dark floor, and on the other, a delicate touch of softness, making it a perfect match for the chosen decor.
I'm really glad I selected this material and didn't opt for a wood floor – it has the exact character I was looking for, it's just perfect.
Tell us about your Brand and the Born Again collection.
Pitchouguina is a small slow fashion Brand that makes only beautifully crafted products marked by values such as authenticity, kindness, beauty and craftsmanship.
Boldly enough, I would describe it as a contemporary Brand that can combine natural and luxurious materials, weaving a good dose of loveliness, calmness and adventure into each piece.
Underlying the Brand is a beautiful story of failures and new beginnings, slowly emerging through my work as a designer – this is also why I named the new collection: "Born Again."
Credits:
Pitchouguina: pitchouguina.com
Made it in Europe: madeitineurope.com
Photographer: Mateusz Stefanowski
Hersztek: hersztek.pl