It's not long now until the most magical day of the year and to arrange the very last details to recreate the perfect Christmas atmosphere in your home. Christmas only comes once every 12 months and has the power to bring together family and friends, young and old, around the warmth of a table dressed up for the occasion or the magic of a tree full of gifts. Tradition and creativity are the key words for choosing or making DIY decorations that can light up your home. But what are the trends for Christmas 2019? Let's find out!
Christmas table: Style variations
Setting the table on Christmas day means choosing every detail carefully, from a variety of different styles, ranging from tartan to shabby chic, from a more modernand sophisticated touch to a more traditionalone, from originalto country up to a more distinctly green mise en place, both in terms of the colours and the decorative elements used.
Natural chic
If you have a raw wood table in the dining area, you can enhance its natural beauty either by leaving it unfinished or using a table runner, playing with colour contrasts, for example combining black plates and gold tableware for a more refined touch, and placing a composition in the centre of the table made with long pine branches, woven together and decorated with berries, pine cones and white candles. Decorations made with natural elements and unfinished fabrics are perfect for a more rustic or eco-friendlytable.
A quartz surface, featuring neutral colours but with warm tones, is ideal to create a rustic "corner" dedicated to Christmas decorations made with acorns, pine cones, dried fruit and dried orange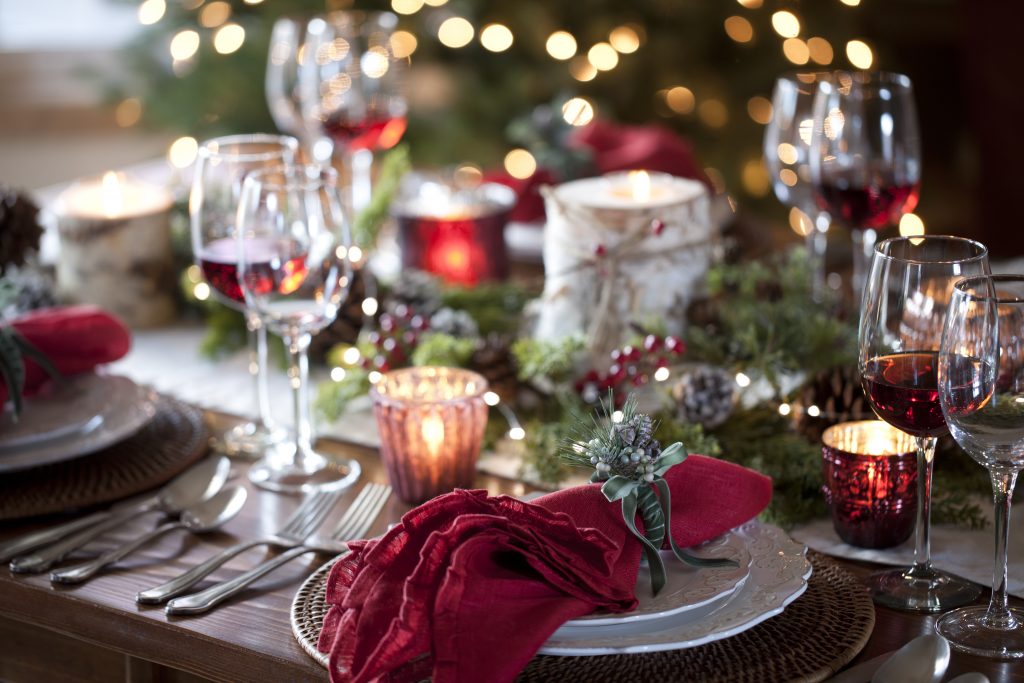 slices. SM Quartz – Senna, SM Quartz – Sabbia Beige e SM Quartz – Cancun are three splendid examples that blend well with a natural chic room, inspired by nature.
Shabby chic
For enthusiasts of this style, white is the main colour and recalls the whiteness of winter landscapes. Lace will embellish the table along with crystal glasses, silver tableware, strings of pearls used as napkin rings, elegant candelabras or little lighted lanterns and, naturally, the typical Christmas decorations made with snowy sylvan branches, snowflakes and golden or silver satin balls. SM Quartz – Metropolis White and SM Quartz – Zenith go very well with the colours of this style and with the allure of nature wrapped in a soft blanket of snow.
Tartan style
If you are in love with Scotland, its history and traditions, then a tartan style is right for you! The traditional colours are red, forest green and white and correspond to the classic Christmas shades! You can use a tartan-style tablecloth or napkin or use it in the various ornaments that will decorate your table and even your home. How? For example, using it to create beautiful bows for your centrepieces or place cards, made with scented cinnamon sticks or cute reindeer, snowman or comet-shaped gingerbread biscuits.
Casual and light: the Christmas buffet
To tone down the opulence of the traditional Christmas lunch, why not take advantage of your kitchen island to create a tasty buffet area with themed snacks? A quartz-based surface with a glossy finish, such as SM Quartz – Virginia from the Venati Collection, can be an elegant and modern setting for your Christmas buffet! Alternatively, you can create a relaxing space where you can drink tea, herbal teas and infusions! Prepare everything you need and don't forget to set it up with pretty and scented Christmas decorations!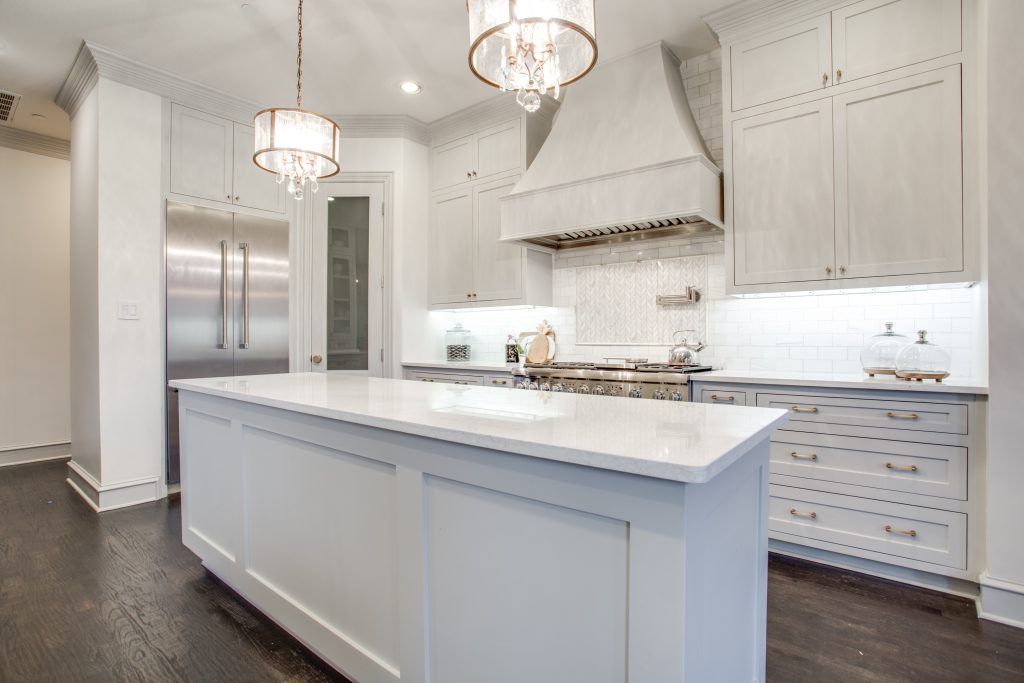 THE WISHING TREE
If the table is the scenographic space of Christmas conviviality, the tree symbolises life that is renewed and therefore hope, but it is also a gesture of love and family unity. Decorating the tree is a moment awaited by adults and children, a tradition to be shared, leaving ample space to our creativity and imagination. The ideas for this magical Christmas decoration are endless and you can choose between a natural or artificial fir or opt for even more original and innovative solutions. Books, branches, stickers, photos, dry twigs, stencils, copper wires with LED lights are all materials that you can use to create Christmas trees that are certainly outside the box and in line with the latest trends.
TRIUMPH OF LIGHTS
Light is a fundamental element to create the Christmas atmosphere in your home. Illuminations, LED tubes, candles, lanterns or light structures are all ideas that allow you to create amazing and evocative settings for the holidays. You can unleash your creative flair for original solutions to be placed in your bookcase or on the living room shelves, around the fireplace, on the door jambs, on the stairs or even in transparent vases decorated with balls of various colours. Candles of different heights, if placed on a live-edge wooden base and embellished with well-wishing butcher's broom or holly leaves, give a magical touch to the home. They can be found on the market either basic or decorated in neutral or distinctly Christmas tones, in the shape of a pinecone, star or little tree to create that warm Christmas atmosphere that envelops the entire family.
If you want a kitchen that shines with light, the Stardust Collection by Santamargherita, will amaze you with its stardust…turn off the light switch and enjoy the magic of Christmas!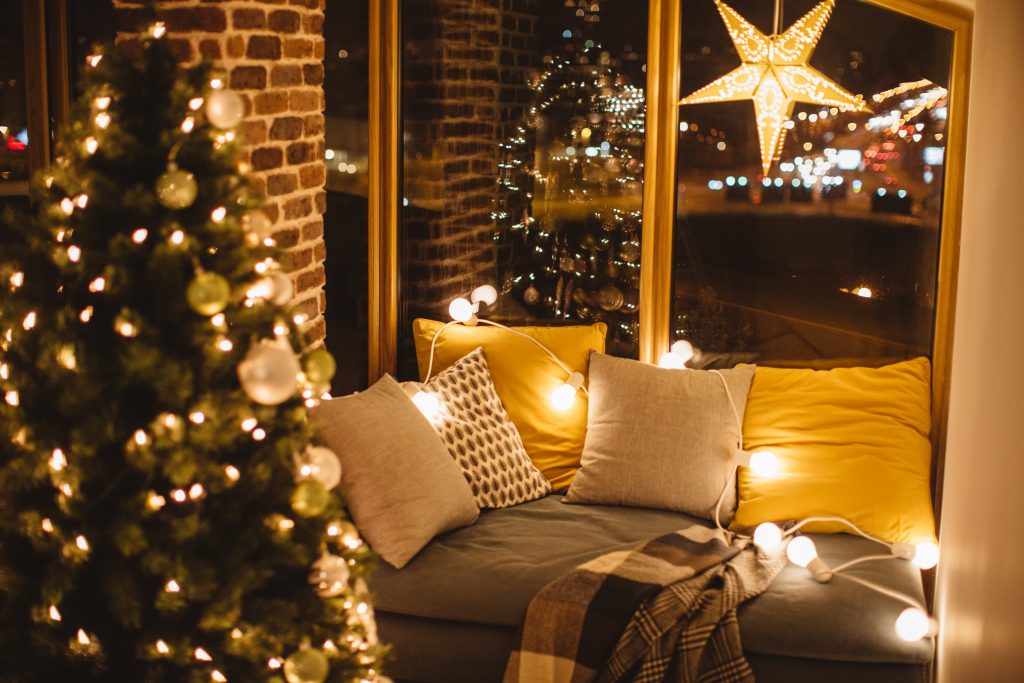 The Editor