If devoting outdoor spaces – be they balconies, terraces, patios or gardens – to plants and flowers is quite a common practice, creating an indoor green corner, on the other hand, is an original solution to give a green touch to your home.
What solutions can be adopted to create an indoor garden?
If you are a plant lover but do not have enough outdoor space, you could think of creating an indoor garden by making good use of some handy furnishing solutions based on the available spaces. From vertical gardens, to preserved moss through to original floor or countertop planters – there are plenty of inventive ways to create an indoor garden.
Vertical gardens: using walls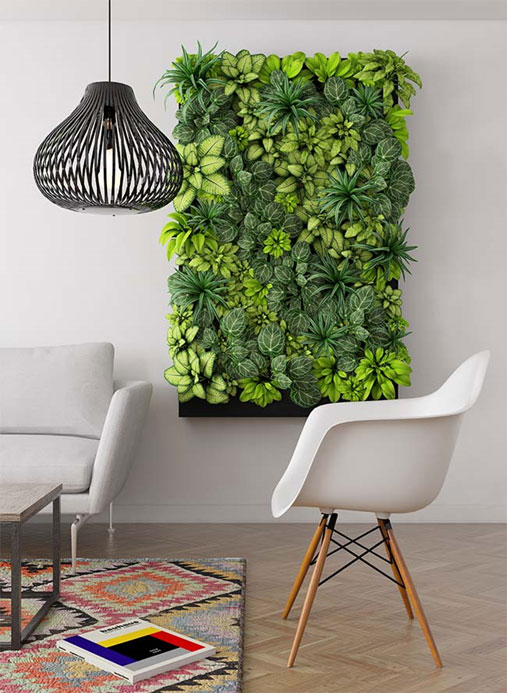 One of the most popular solutions is using vertical spaces. Walls can indeed be used to compose vertical gardens with structures for hanging or holding pots of plants and flowers. The more pots, the stronger the feeling of having created an indoor garden. Selecting the right plants, in this case, will be essential: you can choose lush plants that are easy to water, preferably climbing or trailing, to create a green "waterfall" effect. Ivy, ferns, spider plants, Pothos, Chlorophytum, Aeschynanthus, Cissus – these green plants are perfectly suitable for this purpose.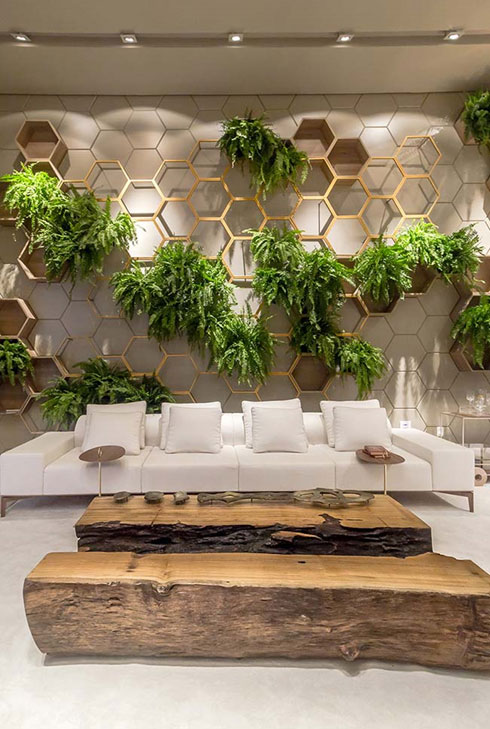 Preserved moss for a green wall Another option for creating a green wall is choosing preserved moss. Natural moss undergoes a process aimed at preserving the vegetal condition of the plant, which thus maintains its colour and softness features for many years, with no need for water, soil and light. There are ready-made moss panels – of different types and colours – which can be customised according to the wall dimensions. Otherwise, you can opt for moss squares or tiles to creatively hang to the walls.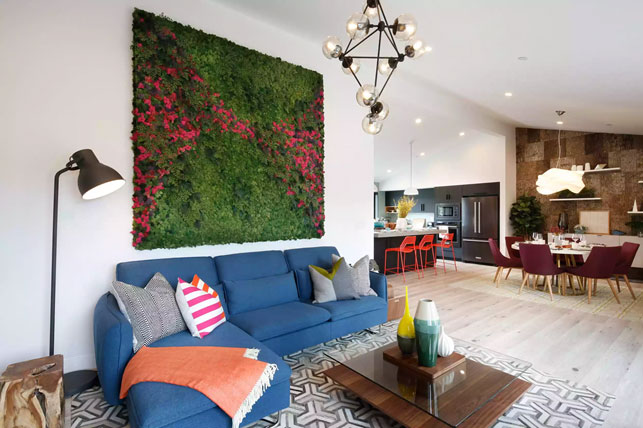 Original planters and pots
If you have more space available than just a wall, you can opt for a small haven in your living room, a sort of modern Zen garden. To do so, take advantage of any floor differences in the house and install large planters to be used as partitions or recessed into the floor. In this case, you can choose plants that grow more in height or with tall stems – such as ficus, bamboo, monstera, sansevieria, banana, palm – to be combined with bonsai trees, rocks, moss and decorative garden elements. The final effect will be that of a real garden.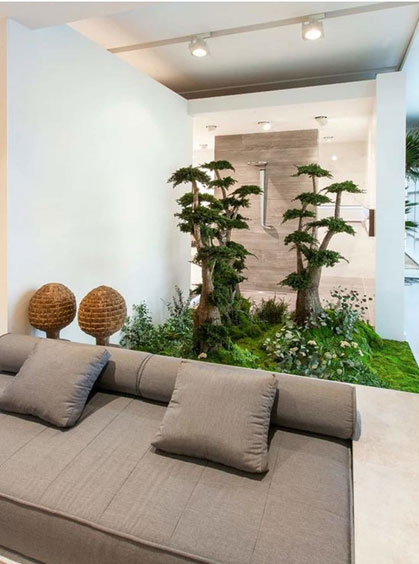 A simpler alternative is choosing large floor planters or original wall-mounted pots and vases to create relaxing green corners.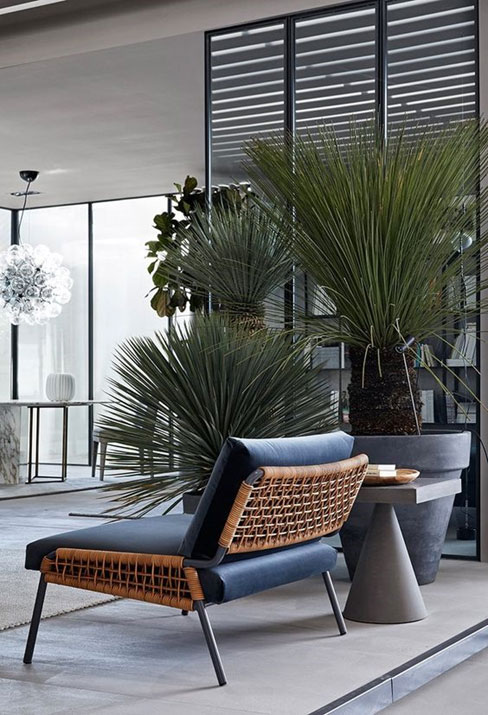 Kokedama
A "new" trend from Japan – a country famous for its botanical compositions and gardening techniques – is Kokedama, the pot-less bonsai, which is many centuries old. This cultivation method makes it possible for plants to live without pots, with their roots growing in a soil and mud ball. As a result of being pot-less, the plants are lighter, more elegant and ideal for hanging from the ceiling, thus creating the effect of a "floating" indoor garden.