The sink plays an important role in the kitchen and, consequently, in the home. In recent years, designers and architects have increasingly focused this element, finding interesting and creative ideas that have revolutionised the way we conceive the kitchen. The sink is undoubtedly one of the most important elements within this room. In which direction are the latest trends going? What are the types of sink best-suited to our kitchen?
The right model
From simple lines and basic models to real works of art. Usually, the most common materials used for the sink are stainless steel and ceramic, but they are not the only ones. Stone is the material that, more than others, is dominating the scene: it has led to the creation of sinks with a structured look and feel and featuring dark shades, or models with unusual shapes.
The classic model is considered the flush-mounted type, often made of stainless steel. The models available are the undermount sink and built-in sink, with one or more tubs.
The choice of sink depends on the style of the kitchen and personal taste: if the kitchen is large, a sink in an island unit is certainly more impressive, even better when it is built-in.
SM Unisink, the built-in sink
The evolution of the kitchen environment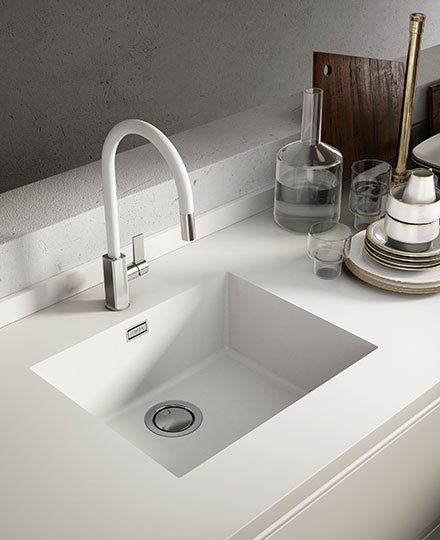 In 2018 Santamargherita launched SM Unisink, a special built-in sink model. Displayed for the first time at the Marmomac trade fair, SM Unisink stems from the collaboration between Santamargherita and a sink manufacturer. The result is a sink perfectly built into the worktop, both from a technical and chromatic point of view: it is indeed possible to combine SM Unisink with the worktop of the same SM Quartz colour, to obtain an elegant colour fusion. SM Quartz – Sand White, Vega, Mosa, Carnia, Caledonia are the quartz agglomerates with which it is possible to combine the SM Unisink models.
SM Unisink is a designer and quality sink that does not compromise on functionality: it withstands heat, impacts, scratches and chemicals. Prolonging the aesthetic appearance of SM Unisink over time is easy if you follow practical routine cleaning measures. Indeed, the sink just needs wiping with a soft sponge soaked in warm water and a common detergent. SM Unisink also ensures safety guarantees for contact with food thanks to the NSF Certificate.
The Editor