Wall paper has made great strides in home decor, becoming one of the smartest (and hippest) solutions for redecorating the home. Original materials and prints, make this soft decor suitable for every type of interior. Whether you love botanical or geometric patterns, know that with wall paper you can truly transform the appearance of a room in an extremely impressive way. For this reason, the pattern needs to be chosen based on the furniture and the effect you wish to create.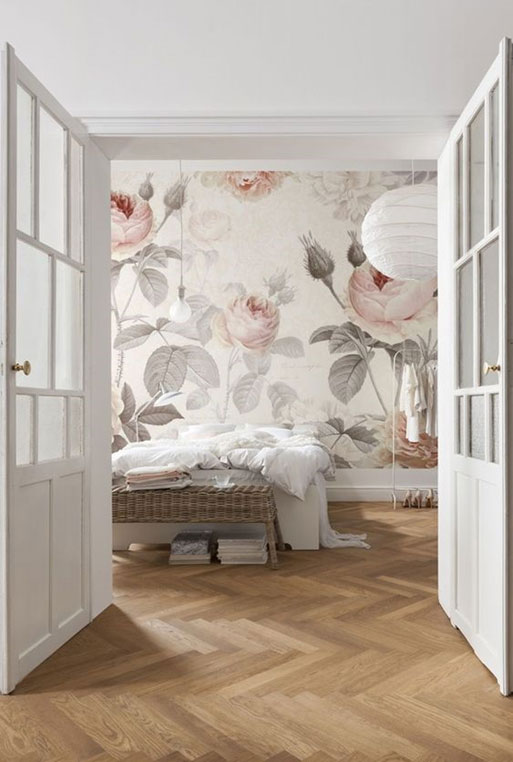 Photo Credit: https://www.pinterest.it/pin/239394536427997154/
Practical and easy application make wall paper the ideal solution to add a twist to a room without having to renovate it. The advantage is that it adapts to every corner of the home: the living room, the kitchen, the bedroom and even the bathroom. It versatility is due to production in different materials (water-proof, vinyl, metal foil, double vinyl) and its reproducibility in multiple patterns, colours and moods.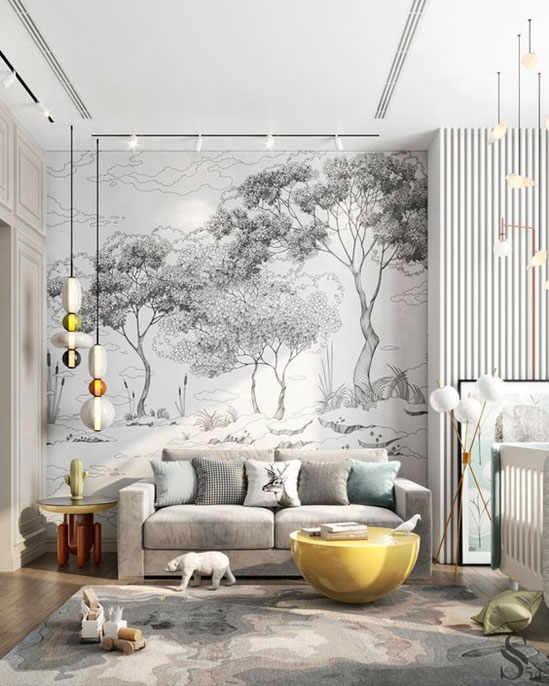 Photo Credit: https://www.pinterest.it/pin/677510337682673658/
Like a chameleon, wall paper is able to cover up the "defects" of a wall, such as uneven surfaces or minor imperfections. Playing with volumes, dimensions and colours, rooms will accordingly appear smaller or larger. Dark shades make a room look smaller, but create a comfortable and cosy atmosphere. A palette of light shades on the other hand, add light and brightness to the room, making it look bigger.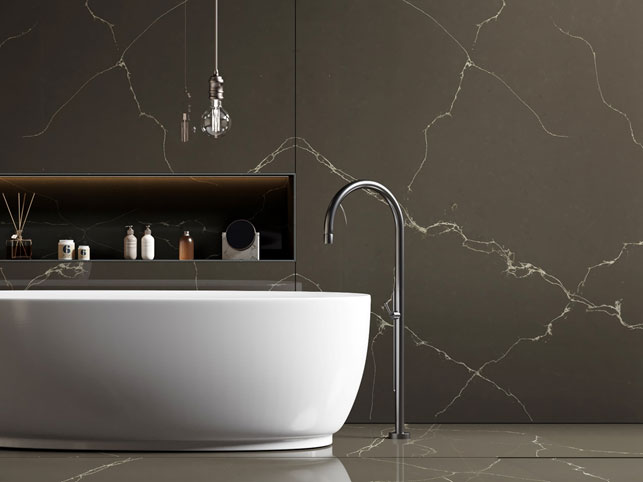 Not sure about wall paper?
If you are looking for a stronger intervention you can opt for the application of actual cladding with stone slabs. People who love marble walls will find a valid ally in the SM Marble surfaces by Santamargherita, composed of various sizes of granules of the most precious marbles mixed with high quality resins. Kitchen and bathroom are the ideal rooms for SM Marble or SM Quartz tiles, as in this case where SM Quartz – Libeccio was chosen. Whether you are covering an entire wall or a single portion, your home will have an added touch of character.