As everyone knows, the most lived-in room in the house is the kitchen, the meeting place par excellence. It features many elements, one of the most important ones is certainly the backsplash, i.e. the protective wall tiles placed above the worktop.
As mentioned, the backsplash is an essential component of the kitchen, both functionally and aesthetically, although often it is not easy to combine the two aspects. From a functional point of view, you need to bear in mind that this element must be suitable for the hygiene standards envisaged for the kitchen, therefore we strongly advise against using porous materials – so go ahead for shiny ones. From an aesthetic point of view, instead, give free rein to your imagination. There are basically three things you need to chose: material, colour and design. The set of these elements will allow you to create a backsplash that works both technically and aesthetically. To help you better understand the stylistic difference that a product or design can make on the surrounding environment, I have designed three different backsplash solutions with the SM Quartz range by Santamargherita.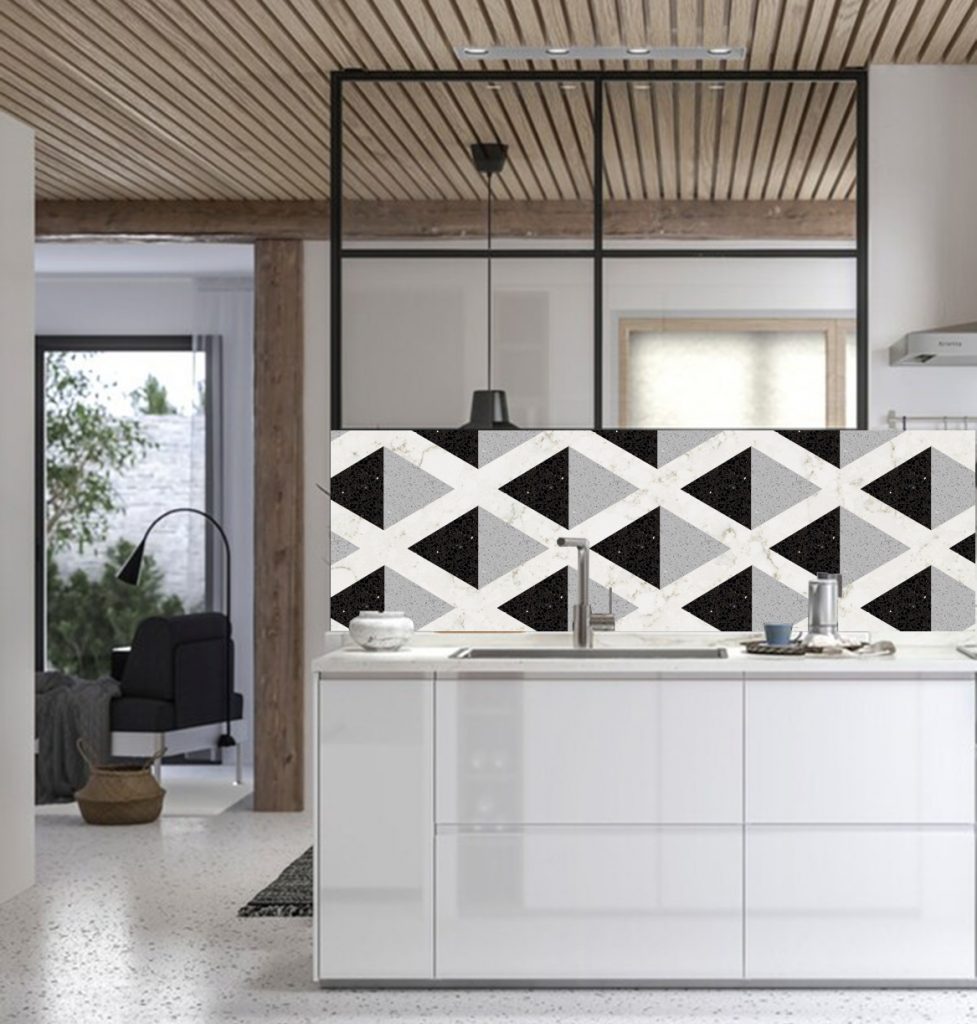 Let's start discovering the world of backsplashes, from the Contemporary solution obtained using SM Quartz-‐Victoria, Amiata and Nero Stardust. Choose clean geometric shapes, a mix of evergreen colours, such as white, grey and black, to create a backsplash that matches most shades, giving the room both a metropolitan and chic atmosphere.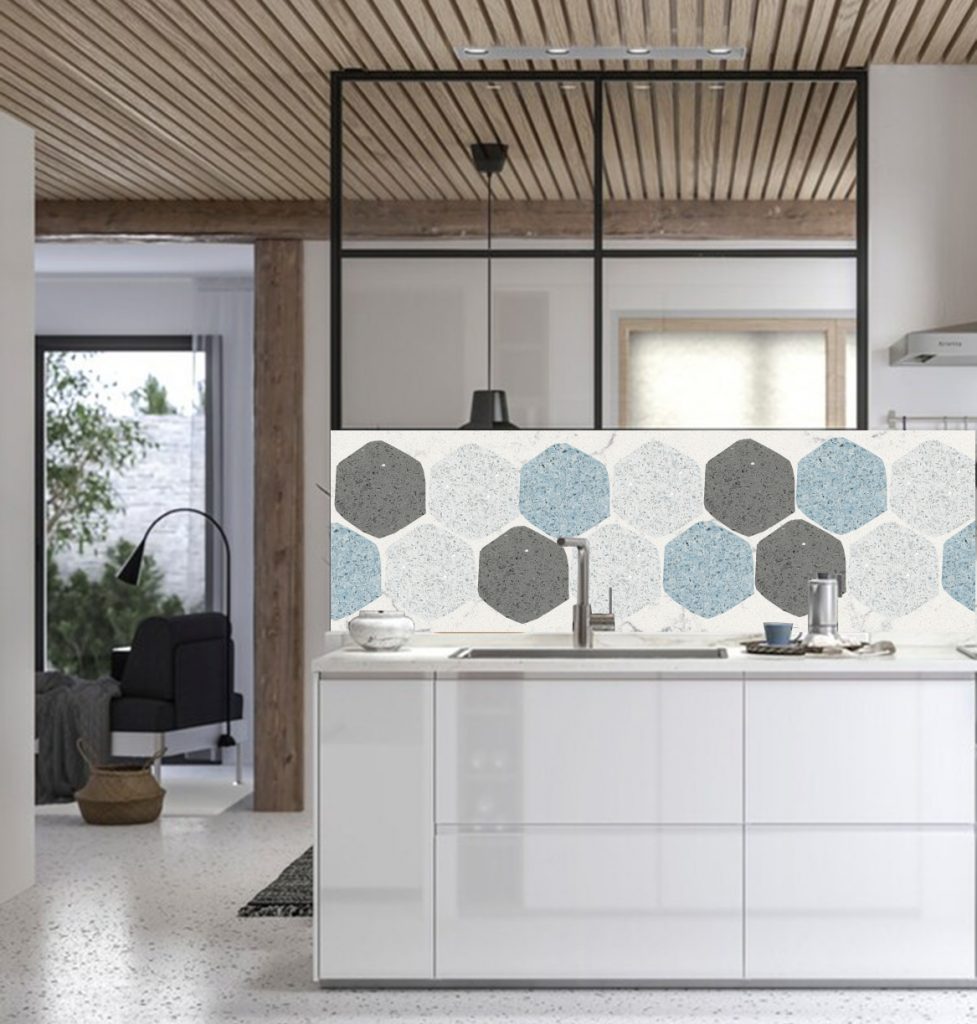 If your style is more Classic, don't miss this solution. Hexagonal geometries, with soft lines, covered with SM Quartz -‐Lyskamm, Bianco Stardust, Sky Stardust and Grigio Stardust, in shades ranging from white to an eccentric light blue, up to grey, for a room with a vintage style.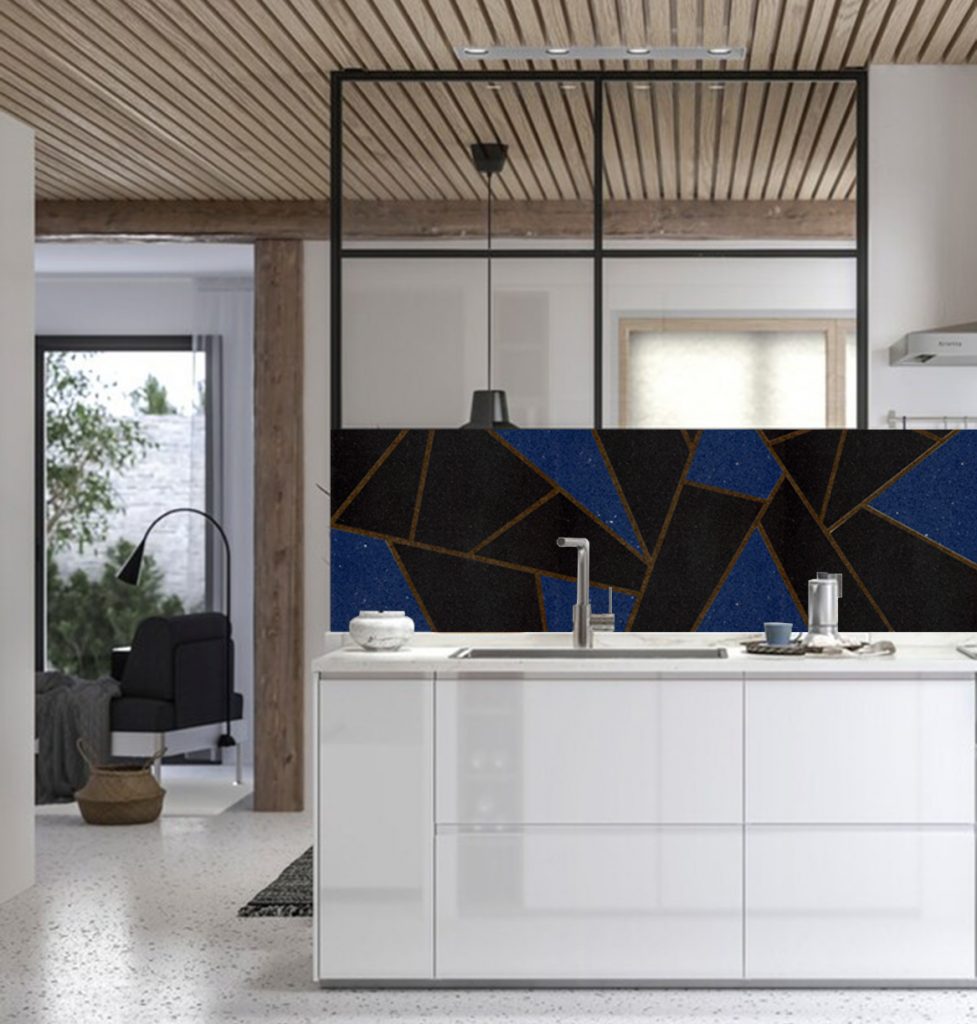 Lastly, an extravagant solution for those who love to dare, abstract geometries with bold colours such as blue, black and bronze, a perfect solution to have a kitchen that leaves its mark, made with SM Quartz-‐Nero, Navy Stardust and Bronze.
Now all you need to do is design the perfect backsplash for your room and remember that: "A well-designed backsplash can change the face of the kitchen."
Images and products: IKEA
INTERIOR DESIGN + di Valentina Malevolti