Around the world to explore the most whimsical and bizarre buildings.

Geometrical lines, curved structures, towers reaching up to the sky and buildings that seem to defy gravity: let's head off together to explore the world's most bizarre designer buildings.
The Crooked House (Sopot – Poland)
A building with a convoluted and irregular design, which looks like straight out of a fairy tale: The Crooked House, created in 2004 by the joint efforts of Jan Marcin Szancer, a professor at the Academy of Fine Arts in Warsaw and Swedish painter Per Dahlberg. The building, which houses a shopping centre, is in one of the most crowded streets of Sopot (in Poland) and is the country's most photographed building.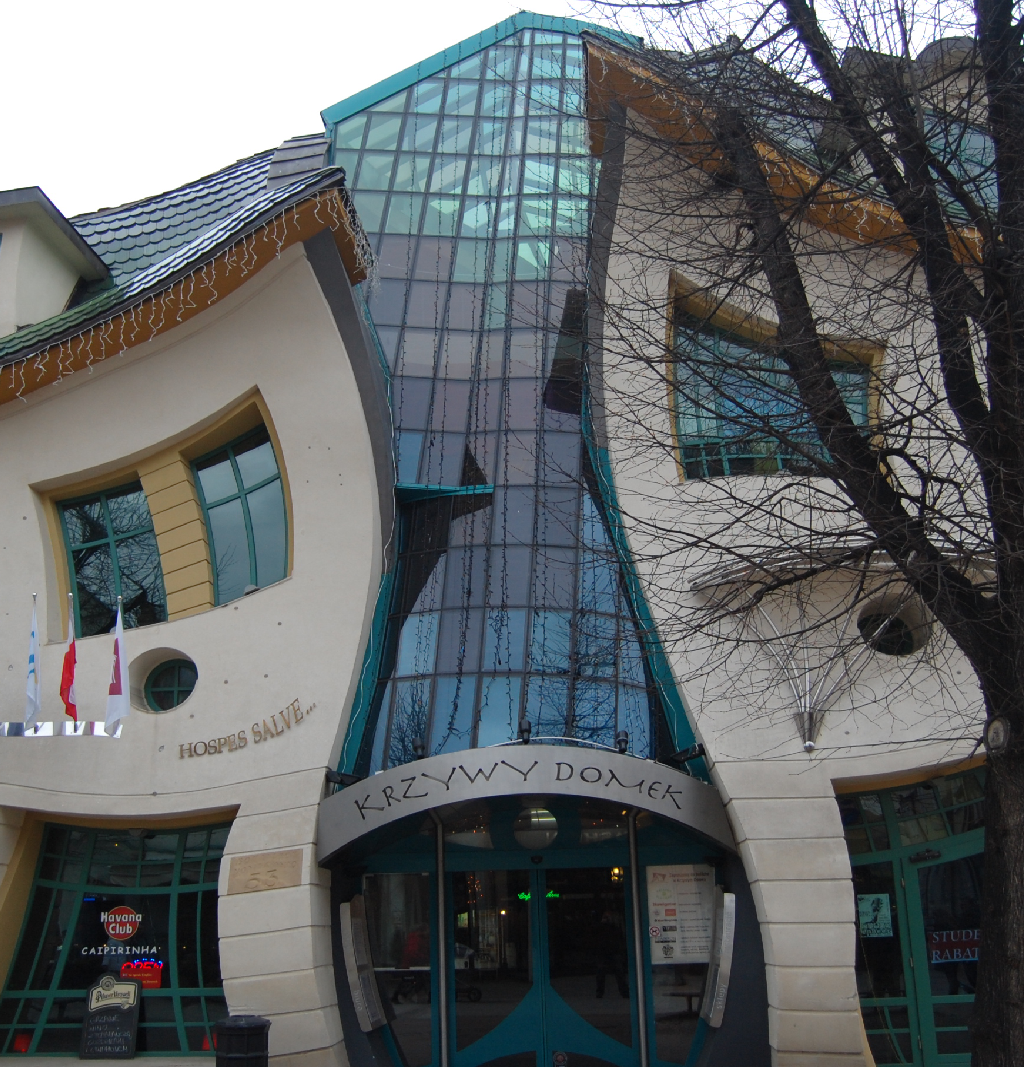 Credits http://www.flickr.com/photos/brocha/
Turning Torso (Malmö – Denmark)
Let's stay in Europe, namely in Malmö, Denmark to discover the Turning Torso: this is the skyscraper designed by starchitect Santiago Calatrava, built in 2005 and awarded as the world's best residential building that same year. The skyscraper is 190-metres high, with offices and luxury homes spread over 54 floors. The structure is inspired by a human torso, twisted on itself by 90 degrees from the base up to the top floor.
While the skyscraper designed by Calatrava seems to be rotating on itself, the Dynamic Tower in Dubai will actually move for real: a 400-metre high tower, whose completion is expected for the 2020 World Expo, consisting of individual rotating floors that will make it move constantly.
Casa Batlló (Barcelona – Spain)
One of the most iconic buildings designed by modernist Catalan architect Antoni Gaudí is undoubtedly Casa Batlló in Barcelona. The building, a UNESCO World Heritage site since 2005, was commissioned by wealthy magnate Josep Batlló to Gaudí, who completed it in 1906, at the height of his artistic career. Casa Batlló has a particularly attractive facade and exterior – consisting of tiles, large windows, balconies and turrets – though the truly revolutionary aspect is inside: a whirl of waves, arches, spirals and curves, with no sharp corners at all and where everything has been painstakingly decorated, down to the smallest detail.
Credits: https://flic.kr/p/eFY5Jb
National Centre for the Performing Arts (Beijing – China)
Beijing's Opera House, also known as The Egg, is a building inaugurated in 2007 and designed by French architect Paul Andreu (La Grande Arche, Osaka Maritime Museum, Charles De Gaulle airport). The main building consists of a giant shell-shaped dome, 45 metres high and clad with thin titanium sheets and glass. The halls are connected by a tunnel, whose vault is completely transparent, running under a large water basin. The Opera House thus seems to be 'floating' on the artificial lake surrounding the building.
Kuntshaus (Graz – Austria) 
A cross between a bubble and an alien spaceship: the Kunsthaus is a contemporary art museum in Graz. The building was designed by British architects Peter Cook and Colin Fournier in 2003 and is an example of blobitecture. The museum, dubbed as the 'friendly alien' due to its bizarre design, is clad with Plexiglas panels and seems to be 'jammed' between the traditional buildings of the old town centre. At night the museum's facade is transformed by a play of lights and signs that make the building even more spectacular and modern.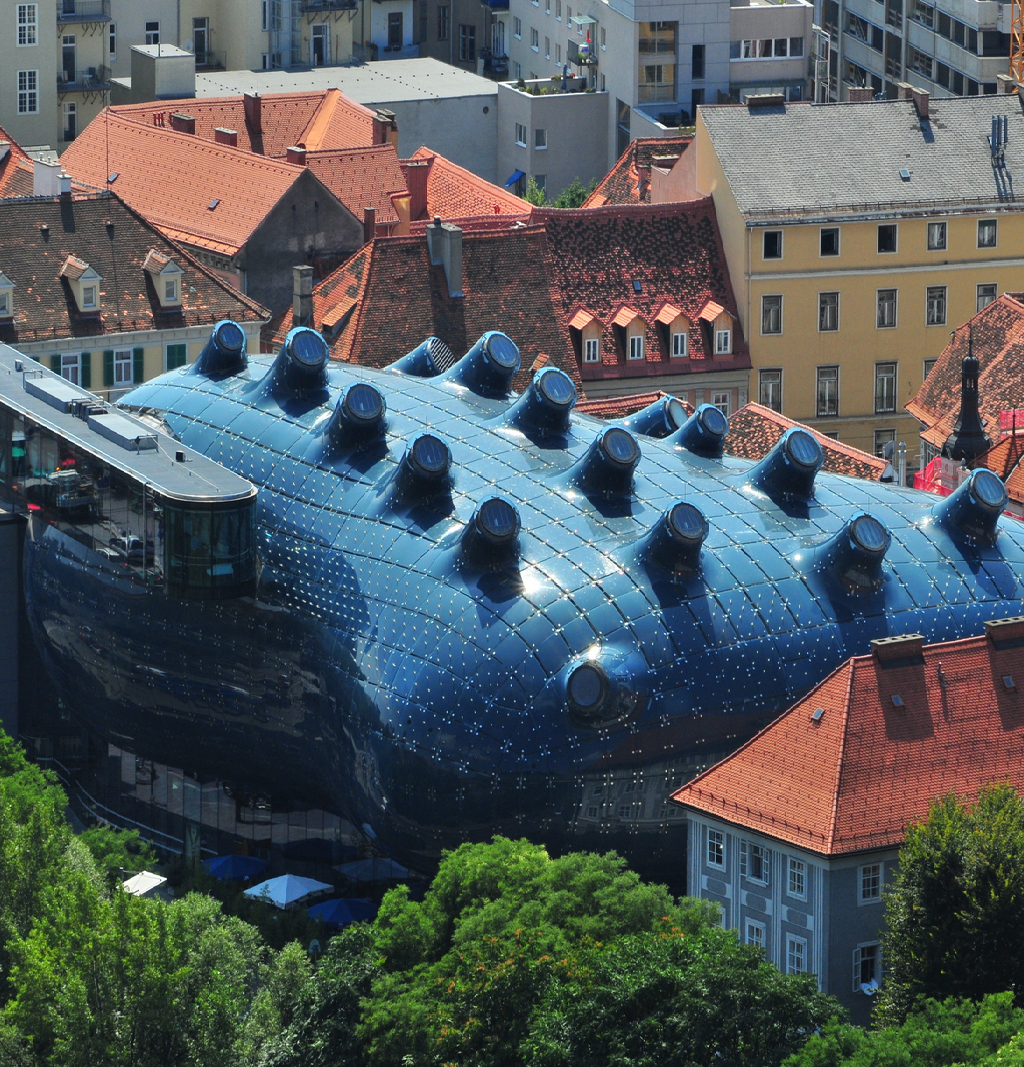 Credits https://flic.kr/p/5frfJ8
The Editor