Today we are excited to present an interview with Małgorzata Wojtyczka, the founder of Wojtyczka Design Studio, to discover the details of a project realized in Warsaw, featuring our SM Marble – Foscari. This project was conceived to meet the needs of a young couple with a newborn, who desired to transform their apartment in Warsaw into a bright, airy, and functional space. Małgorzata skillfully translated the owners' desires into a tangible reality, creating a minimalist environment characterized by interesting finishing details such as the terrace and the skillful use of color both in the kitchen and in the bathroom. In the interview, Małgorzata will guide us through the creative process that led to the birth of this unique project.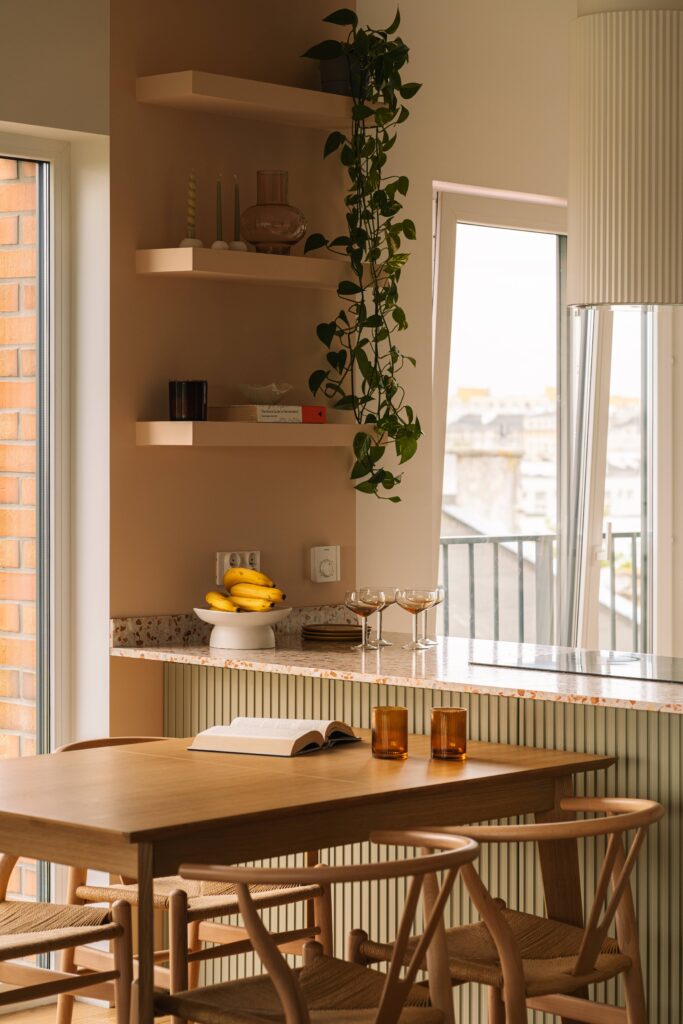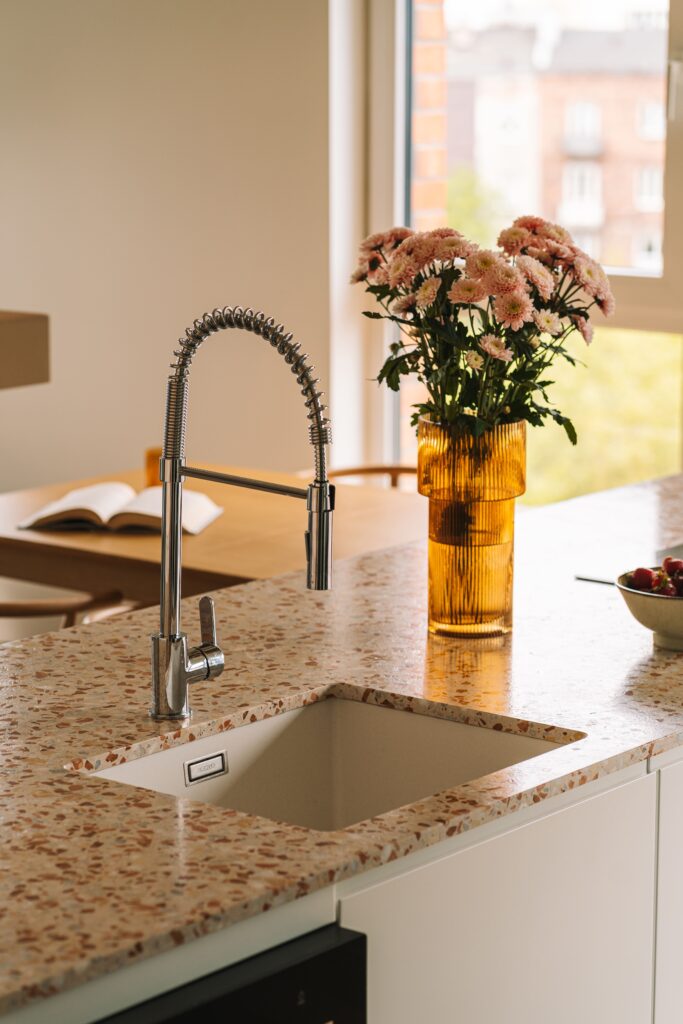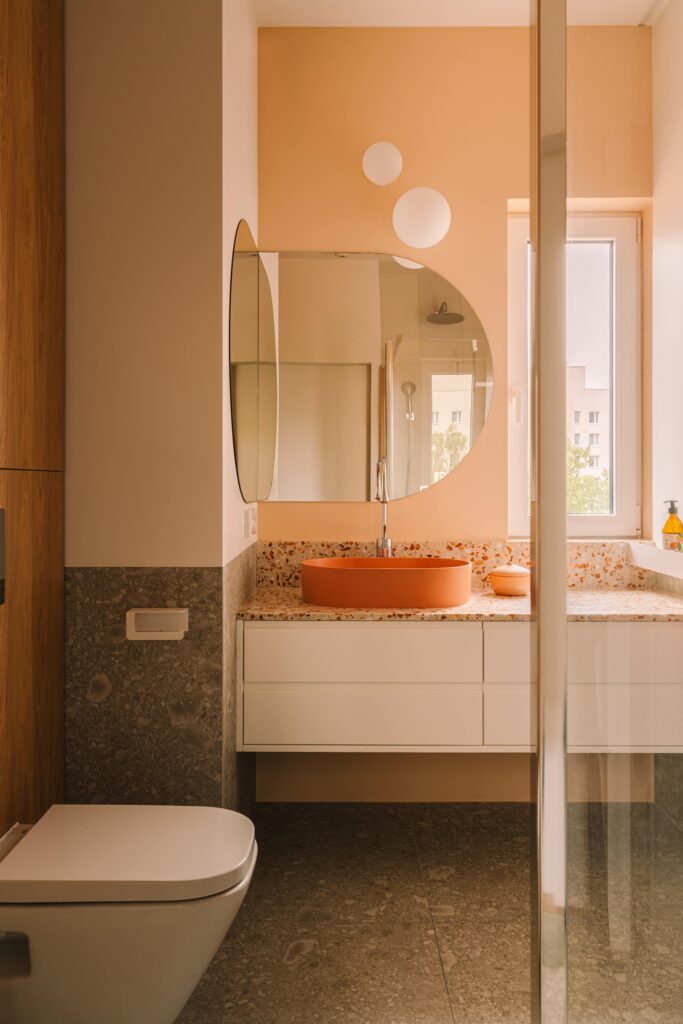 How was the idea of the project born? What was the initial need?
The apartment in Warsaw's Praga was designed for a couple with a newborn child. The owners wanted it to be light and airy with plenty of storage. They wanted a minimalist space with interesting finishing elements such as terrazzo, non-obvious color, wood, without unnecessary decorations. Having clearly defined investors' needs regarding their dream apartment, I was able to let my imagination run wild and create a project that would suit their taste. We decided to go for pistachio and coral colors, which were complemented with wood and white throughout the apartment. These colors complement each other and make the designed space feel like summer all year round.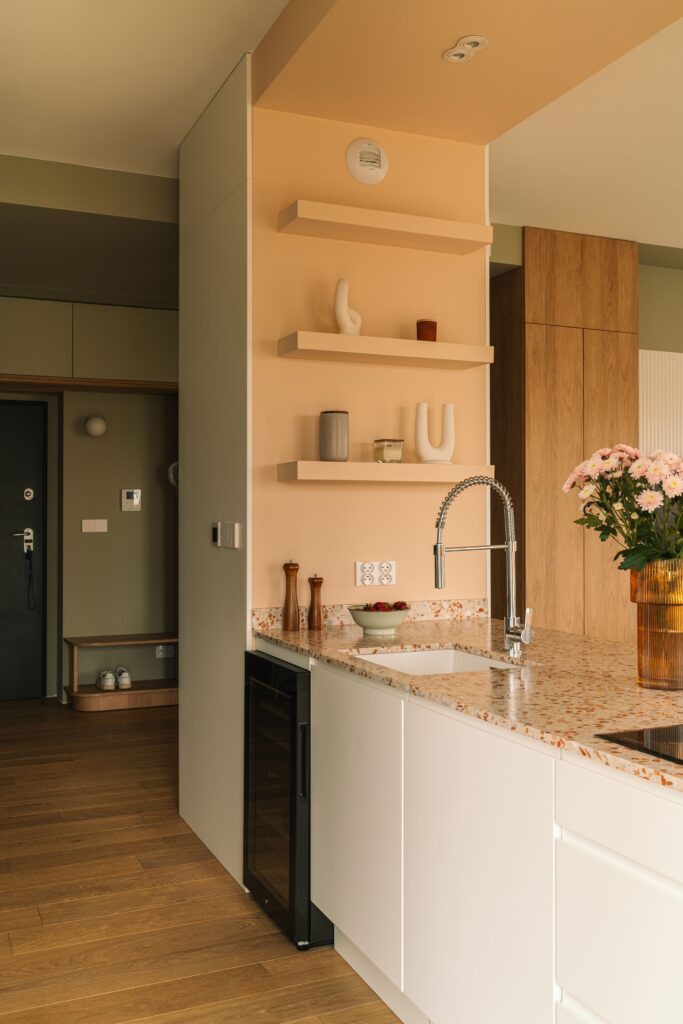 Which Santamargherita's materials did you use? For how many MQ?
In the project I used SM Marble Foscari. I knew it would be a perfect decoration for a kitchen with a huge worktop. We used the same material in the bathroom, where it plays the main role against the background of gray tiles, together with the coral washbasin. The effect is sensational and that's what I wanted.
How did you discover Santamargherita?
I got to know the Santa Margherita company thanks to the stonemason I work with. When he showed me the materials of this brand, I immediately wanted to learn more about them and use them in the project as soon as possible. Santa Margherita materials are exactly what I need in my projects. They have elegance, a color that I use very often in my projects and unique terrazzo patterns that I love since I started designing, and probably even before. The apartment design uses materials that correspond well with terrazzo, namely wooden floor and furniture, stoneware tiles and chrome accessories.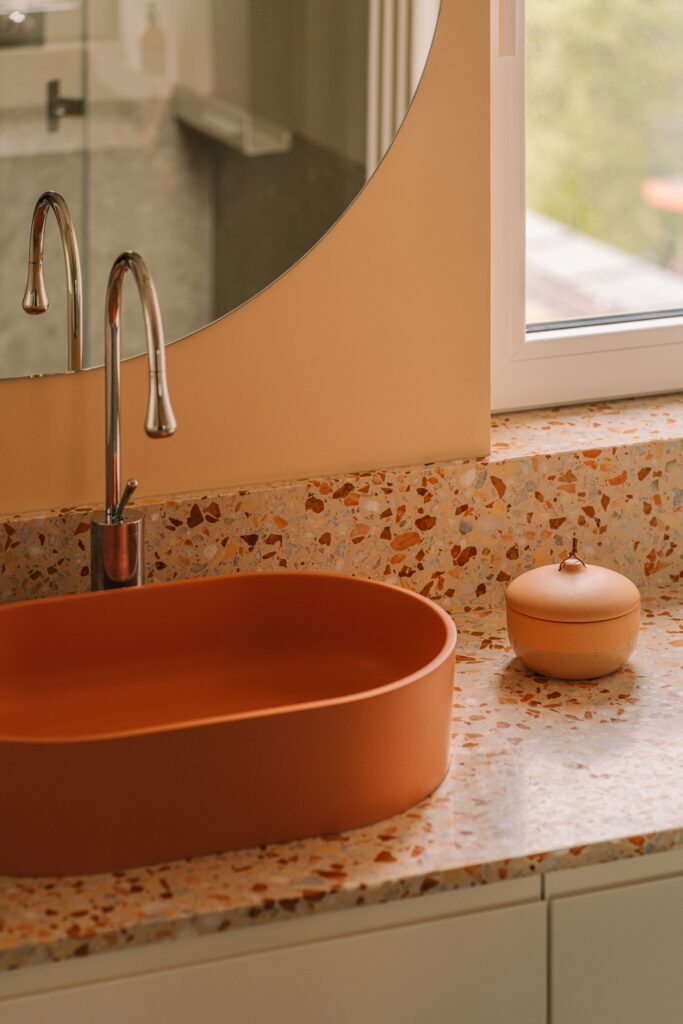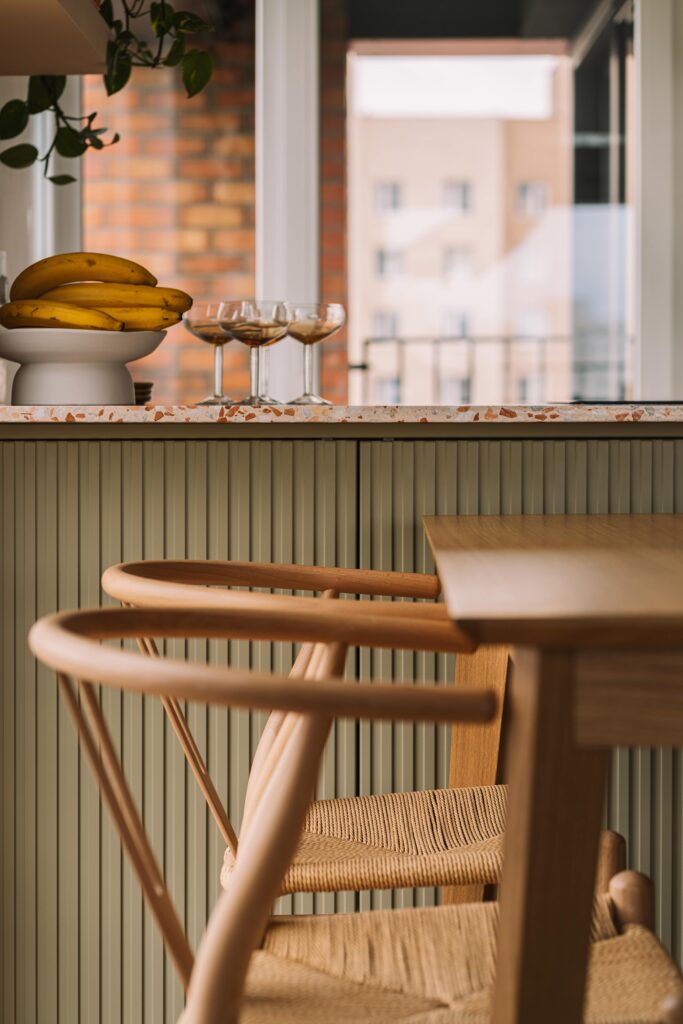 What was the style picked for the project? And why?
In accordance with the design assumptions that were discussed with investors before starting the project, I created interiors in a minimalist style. I would even describe it as warm minimalism due to the extensive use of wood and the creation of cozy rooms where you want to stay.
What are the comments received by users, guests, and clients about the finished project?
My clients were impressed with the workmanship of the countertops. The whole project met their expectations and they were very pleased with the final effect. Countertops made of Santa Margherita's material are like the icing on the cake in their apartment. After a long time of use, they let me know that the countertops work well and are still visually pleasing. Which made me very happy, because a satisfied customer is a happy architect 🙂
Wojtyczka Design Studio
https://www.instagram.com/wojtyczka.pracowniaprojektowa/?hl=en
Wojtyczka Design Studio was founded by Małgorzata Wojtyczka. Your adventure with interior design she started with leaving her hometown of Zakopane to study at the Academy of Fine Arts and Design in Wroclaw. After five years of study completed with the defense of the diploma, internships and work with older architects, set up her own studio and has been designing on her own ever since conditions. It makes investors happy with original, functional interiors, tailored to suit individual needs. He treats each project as a new challenge. not enduring anonymous, impersonal interiors, approaches his work in a very personal, ambitious way. The key here is the relationship with the investor, getting to know him character, habits and preferences. He believes that only then will the project be complete. She likes Bauhaus and Modernism the most, but no other style is hers terrifying. He likes to mix them together, creating unobvious, original projects. Inspirations draws mainly from travels and is not afraid to smuggle them into projects.