Light or heavy? Classic or modern? Confronted with Barry, the table that is the fruit of the inspiration of the designer Alain Gilles and the skills of Miniforms, the question arises spontaneously: what are we looking at? Its curves, in fact, play with our perception of space and challenge us into creating rooms that are not afraid to dare.
An extremely visually impactful material from the Palladio Santamargherita line was chosen for this table with the unusual contours: SM Marble – Palladio Moro. A material that harks back to the great tradition of the Venetian terrace and reinterprets it for modernity,
thus giving birth to an object that marries creative vision and meta-physical form to the history of Italian materials.
A meeting of two very great minds
The brains behind the creation of Barry are Alain Gilles, a Belgian designer who has won prestigious international awards, and Miniforms, an iconic Venice-based company.
Alain Gilles, who made the transition into the world of design after having worked in finance for years, has, in the recent past, created successful design objects by developing very impactful creative concepts. Miniforms has forever been a point of reference for products made in Italy, thanks to the assiduousness of its research and its meticulous attention to materials.
The meeting of these two great minds is born from an understanding and from the desire to create, together, an object that can combine expressivity and beauty. The name of Santamargherita cropped up during the search for materials. From there, it was but a small step to considering a "bold" material like SM Marble – Palladio Moro.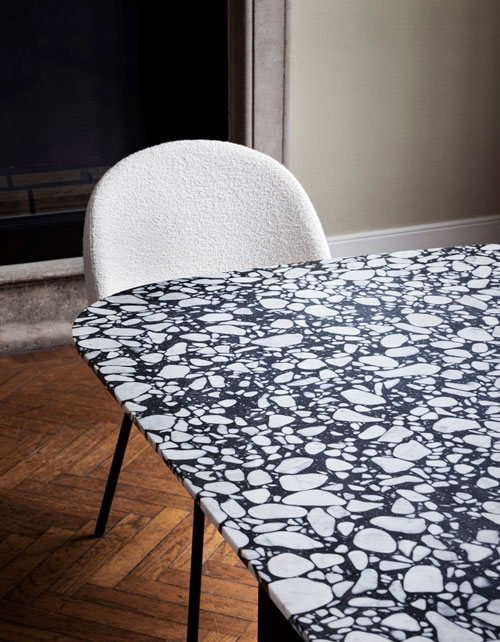 Alain's design was presented at the Salone del Mobile, where it met with great success. Miniforms then added SM Marble Palladio Doge as material for the worktop, an interesting choice that manages to impart an even more metaphysical feel to the table.
Barry, a question of perspectives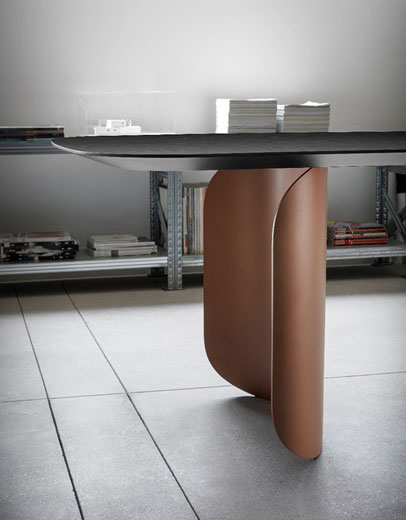 What does Barry look like? The designer created the table by playing with perspective and with the perception of volumes. The table becomes a design object that can look light or heavy, depending on the angle from which you look at it. Its shape – all rounded edges and original patterns – is dominated by curves. Solidity and lightness share the same space and a conversation on the table's surfaces and structure. The result is an object of an one-of-a-kind design. Equally at home in elegant living rooms with a retro touch or in modern spaces, Barry is also perfect for contract designs or corporate spaces.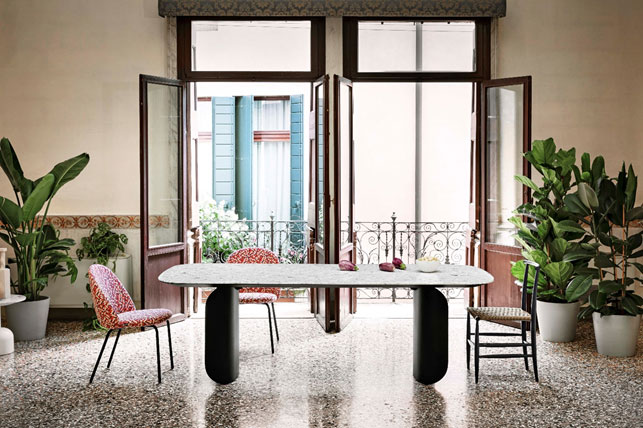 Credits: MINIFORMS