Choosing quartz for the kitchen counter top means adding an extremely valuable element to the home. The quartz kitchen counter top, with its natural beauty, is able to attract attention and brighten up the whole room. Its technical features are unarguable: extremely hygienic, antistatic and easy to clean, quartz counter tops require little maintenance and in exchange for it, offer a long-lived and solid friendship. Whether white or dark, with porous or smooth surface, with chips or veins, quartz is always a choice able to immediately heighten the style of a kitchen. What elements should therefore help you choose the right top? It all depends on the style you wish to adopt for your home. A minimalist kitchen, with a Nordic style or a room with a classic design, for a timeless kitchen? To each their own kitchen counter top.
For the minimalist kitchen
If the effect you are looking for is that of a neat and minimalist style, the ideal choice will let you create a room where the items seem to be encased in the structures. A kitchen counter top with a built-in sink such as SM Unisink is the ideal choice for a room with an essential and neat style. The sink colours may be Vega, Carnia, Sand White, Caledonia, Elba Santamargherita.
Fascinating veins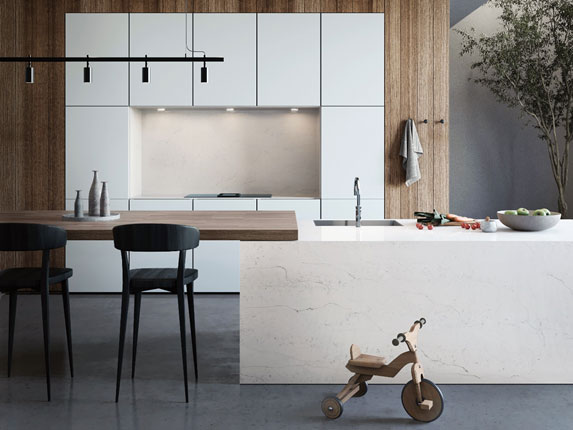 For a kitchen that does not go unnoticed, it is possible to focus on veins. The SM Quartz Voyage by Santamargherita line offers intriguing and extremely beautiful solutions. Thanks to the latest technologies, it has been possible to develop a quartz line with light veins that lend a refined charm to the slabs. SM Quartz Grecale, for instance, available in the glossy, polished, brushed and aged finish, can be applied on a kitchen counter top or island with grandiose results. Matching it with wood can result in an elegant yet simple setting. The ideal solution if you are looking for an evergreen kitchen.
Industrial style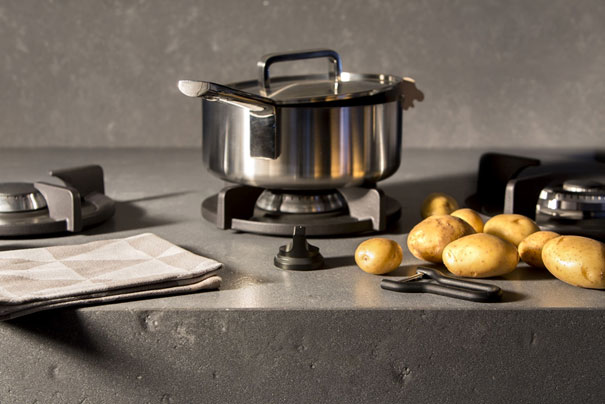 If you are looking for greater impact in your style, you can opt for bold materials such as steel, to be matched to dark quartz with uneven surfaces. Black, dark grey and not only, the industrial-style kitchen has a goth-like, yet stylish soul, as it has taken a page from New York lofts. Steel, wood, exposed bricks and ample glazed surfaces thus meet SM Quartz – Metropolis Dark quartz counter tops with a concrete effect for a kitchen with an urban soul.