A marble floor is an interior design classic: it's been used for years, with different but always contemporary styles. Choosing a marble floor for your home is like playing with a palette of colours: there are many options when it comes to style and to the personality with which a marble floor can imbue the room, depending on the colour of the material. Depending on the shade, the chips, the veins, the variety and intensity of colours, the floor can be eye-catching or act as a neutral background for the space.
The SM Marble range of Santamargherita is home to various lines and collections of marble agglomerates.
SM Marble: marble agglomerates for unique spaces
The SM Marble agglomerates include a variety of collections, perfect for the living room or the bathroom, on the floor and on walls alike.
To make a room brighter, you can choose SM Marble wall tiles with dark veins on a light-coloured background that fit both light and dark furnishings. An interesting way of going about things would be to combine a light floor with darker, strongly-coloured furnishings.

Marble agglomerate: black or white?
If the surface to be covered with SM Marble is quite large – perhaps an open space, going for darker colours could well be an option. Here are some of the surfaces we recommend for large, airy spaces with good natural light: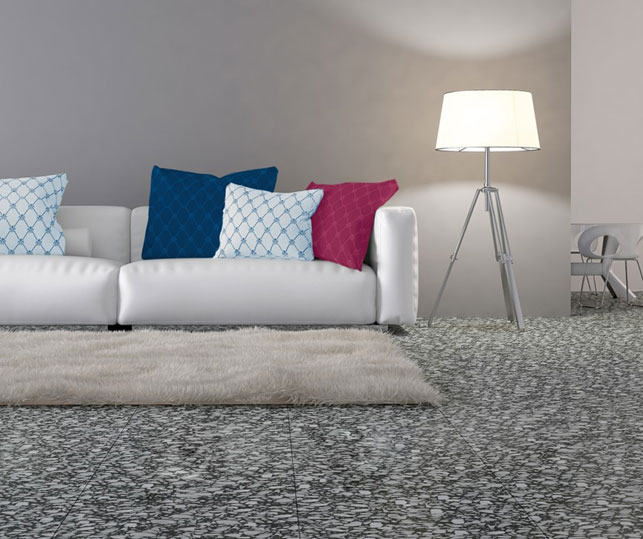 These darker shades, the height of elegance, make the floor the true star of the space. In this case, we would recommend opting for lighter-coloured walls and minimalist furnishings with clean lines.
If the room is not very big and the goal is to make it brighter, a possibility is offered by light shades of marble, such as:
In this case, the furnishings can be either modern or classic, light or imposing, more or less light-coloured. An interesting suggestion regarding the use of gold details: finishes of this colour impart
elegance to the room and make it brighter without weighing it down. Lastly, floors in lighter shades are perfect for large spaces.
Santamargherita offers a wide variety of materials and colours: plain coloured, veined, breccia, Venetian terrace, dark and light. The finishes of the materials – glossy, polished, aged, brushed – can contribute to a truly unique end effect.